Recipes For Chocolate Cake
With Pictures
Take a look at the dark chocolate cake recipes below, they are all delicious and easy to make!
There are plenty of recipes for chocolate cake on the net, not even mentioning the thousands of cookbooks all dedicated to the topic of "chocolate cake recipe."
It is sometimes difficult to find the perfect cake, you just have to simply give a recipe a try and see for yourself. My recipes for chocolate cake are all tried out be me and so far they all were very well received by my family. They are my test bunnies so to say.
Recipes for Chocolate Cake

Best Moist Chocolate Cake Recipe with apples

Best Chocolate Cake Recipe with cherries and grounded almonds

Chocolate Cookies Recipe Great snacks for school or for a trip to the park.

German Chocolate Cake Recipe - Donauwelle

Easy Chocolate Cake Recipe with dark chocolate

Best Brownie Recipe with chocolate glaze

Recipe for Brownie with chocolate and cocoa

Easy Brownie Recipe with nuts

Brownies from Scratch with a crunch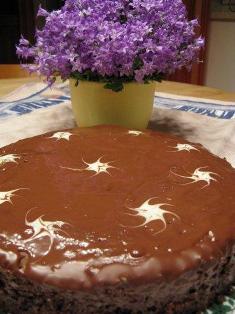 To make a good chocolate cake one needs to understand a little about chocolate. When recipes for chocolate cake call for cocoa, you should not substitute with grounded chocolate and vice versa.
First of all pure chocolate contains only chocolate liquor (which is cocoa solids and cocoa butter), and flavorings. Cocoa is just the chocolate liquor with ¾ of the cocoa butter removed.
It is then pulverized, to make what we know as cocoa powder. It is usually very bitter. So, if a recipe calls for a lot of cocoa, it better have a decent quantity of sugar as well (at least 200 g – 1 cup). If it does not, the cake will not be sweet enough.
Some dark chocolate cake recipes call for bittersweet or semisweet chocolate. These chocolates have in addition to the pure chocolate liquor, sugar, vanilla, and extra cocoa butter added. They can be used interchangeably, but the amount of sugar in them varies from manufacturer to manufacturer. I always suggest baking with chocolate that you enjoy eating. So if your favorite is milk chocolate from "Milka", then use that one, but bittersweet. Of course, if you like to eat dark chocolate, then you already know which one is good and which one is not.
I have a chocolate cookies recipe that calls for couverture. This type of chocolate is used for decorative work and for dipping. In the US, it is made from compound chocolate (chocolate with vegetable shortening instead of cocoa butter), but in Europe, however, it is made from highest quality chocolate. Due to its high content of cocoa butter, it has a nice gloss.
Some recipes for chocolate cake call for white chocolate. This heavenly type of chocolate contains about 30% fat, 30% milk solids, and 30% sugar. It also contains vanilla. The better quality white chocolate contains cocoa butter, but the lower quality has no cocoa solids whatsoever. White chocolate can be used in many cakes as for example in my white chocolate cheesecake recipe. It can be also used as a rescue when your buttercream or pastry cream is not thick enough. All you have to do is add a small amount of melted white chocolate. It will add firmness without significantly changing the original mixture.
It would be interesting to find out how people store their chocolate at home. My mom-in-law always keeps her chocolate in the fridge, since she likes to bite it.
I like mine at room temperature since I like it when it melts in my mouth. The best way of storing chocolate is to keep it wrapped in an airtight container. It should not be kept in a humid place, and at temperatures between 60-75°F (15-24°C).
Dark chocolate stored like that can be kept for up to 2 years, milk and white for about 1 year. But, honestly, who keeps chocolate stored for that long?
I hope that you enjoyed my essay about chocolate, and if you didn't, at least enjoy my recipes for chocolate cake.

If you share the passion for chocolate then check out Cake Addicted for more chocolate recipes.


Share Your Recipes And
View Visitor's Recipes Here
Do you have favorite recipes for chocolate cake and would like to share your secrets?
Did you ever bake a cake that was just great? What is your favorite chocolate cake recipe?

Share with us your easy cake recipe that you love the most or tell a story about a chocolate cake you baked!
Return from Recipes For Chocolate Cake to Easy Cake Recipes Homepage