Simple sponge cake recipes for all occasions: birthdays, holidays, Valentine's Day, and others.
Sponge cake recipes made easy
Hi there again. Thank you for checking my simple sponge cake recipes site. I hope that the easy cake recipes that you find here will be of use to you.
Below you will find my basic sponge cake recipe which can be used in many ways. I use it as a base for birthday cakes, but they can be also used for fruit cakes. Some people enjoy them dry and eat them with jam.
Simple Sponge Cake Recipes

Do you need a Recipe for Sponge Cake ? Try this simple and easy cake recipe that delivers a delicious and fluffy cake.

This is a basic sponge cake recipe that you can use to create your own individual masterpiece.

Easy chocolate sponge cake recipe which is based on the basic recipe for sponge cake. Decorate any way you want it and make a small masterpiece.

Simple Victoria Sponge Cake Recipe . Enjoy this basic sponge cake recipe – it is delicious.

Basic Sponge Cake Recipe that bakes perfectly with my easy technique.

Delicious and moist Chocolate Sponge Cake recipe that is relatively easy to make. Combined with a complimentary frosting, makes a perfect special occasion cake.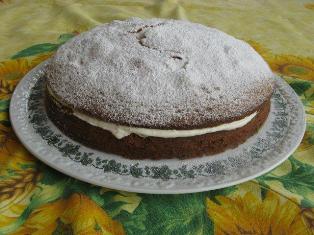 There are sponge cake recipes that call for butter, which partially tenderizes and adds more flavor to the cake. My basic sponge cake recipe contains no butter but quite a few eggs, making the cake lighter and with very delicate texture.
Here are some tips for successful baking of simple sponge cake recipes:
• Use a scale to measure everything exactly (this goes for any cake).
• Make sure that the eggs are at room temperature.
• Work quickly once you beat the egg whites so the air pockets don't deflate.

You will find below a basic sponge cake recipe that can be used for all occasions. You just need to vary the form shape and icing. So, if you are making a Valentine's cake, just use a heart shape form and fill it with your favorite sponge cake batter. One can cut the cake in two or more layers and spread cream in the middle and cover the cake with icing.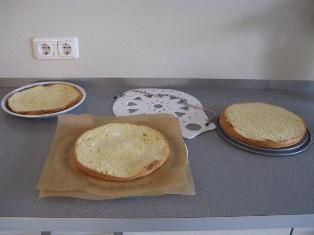 My mother always said that the key to make a good special occasion cake is to make it wet. One makes strong tea, adds a little of strong alcohol (whiskey, cognac, or rum), a tablespoon of sugar, and pours spoonful on the layers of the cake.
If you have kids you can stick to tea only or use fruit juice.

I always first make the layers wet, then spread a thin layer of some sour jam onto the inside layers only. Afterwards, I spread icing onto the jam, place the layers on top of each other and ice the top and sides of the cake.
The sourness of the jelly composes great with sweet icing. My mom usually uses cranberry jelly. Her birthday cakes are always a hit enjoyed by everybody.
One can bake sponge cakes in a large rectangular form and cover with fruits after baking, making beautiful creations with forest berries.
Another option is baking the cake with fruits. You can cut fruits of your choice into small pieces and mix with the batter or place them on top of the batter. You can sprinkle the baked cake with powder sugar.
Another super easy option is a simple dry cake that can be enjoyed with jam or marmalade. You can bake it in bread form or in a round form.
If you bake it in a round form, you can cut it in two round halves and smear jam in between, making a Victoria sponge cake. Below you will find a Victoria sponge cake recipe that is tested and is easy to bake.
I hope that you will enjoy these simple sponge cake recipes
Are you looking for games for kids birthday party? Here is a resource for preschool children birthday party games and ideas - Best-Preschool-Games.
Return from
Simple Sponge Cake Recipes to Easy Cake Recipes
Homepage