In Need Of New Easy Cheese Cake Recipes?
Enjoy my easy recipes for cheese cakes.
Here you can search my site for easy cheese cake recipes.
Custom Search
Are you looking for cheese cake recipes? Do you have to bake a cake for a party that you go to? Either way, you have come to the right place.
My easy cheesecake recipes listed below will definitely satisfy your needs. Each easy cheesecake recipe has detailed instructions and comes with a picture.

Easy Cheesecake Recipes

Creamy White Chocolate Cheesecake Recipe that is a must try. Impress your friends with your baking and decorating skills by trying this easy cake recipe.

Raspberry Cheesecake Recipe - an easy recipe which makes the best cheese cake in the world.

This German cheesecake recipe comes of course from my mom-in-law and belongs to one of my best cake recipes. It is very fluffy, light, and not extremely sweet.

This best cheesecake recipe delivers such a good cake; even skeptics of cheese cakes will love it. If you need easy summer desserts, then this cheesecake combined with fresh fruits (which taste best in summer), is a hit.

I got this easy cheesecake recipe from my good friend who likes to experiment with new recipes. I was immediately impressed by this cake and decided to add to my on line best cake recipes collection. It is very tasty and even though it has plenty of calories, you don't feel them when you eat them.

This chocolate cheese cake recipe delivers a delicious, creamy, and smooth cake. There are many easy chocolate cheese cake recipes and this one is one of the best.

This recipe for cheesecake is my son's favorite chocolate cheesecake. This easy cheese cake recipe makes a cake with crunchy top, soft cheese filling and a crunchy bottom.
Did you ever bake a cheesecake and found that after baking it, it had cracks in the middle? Well there is one easy method to avoid this from happening.
You just have to wrap the bottom of the springform pan with aluminum foil and place it in a larger baking pan. Fill the larger pan with hot water until it reaches ½ inch up the springform pan. Place it in the oven and watch it grow and bake nice and evenly.
To test for doneness, gently shake the pan. The top of the cake should move as one solid piece. There should be no soapy movement in center. The cake should cool down slowly and will have a flat top without any cracks.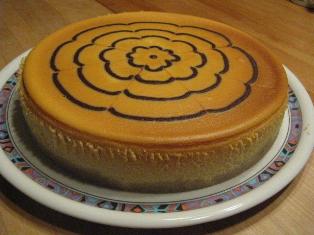 Quick word about the main ingredient: cheese.
Cheesecakes vary depending on which part of the world the recipe comes from and the main difference is the cheese being used.
In Germany and in Poland quark is used as the main ingredient, which is a very smooth fresh cheese. In the Netherlands and in Belgium melted bittersweet chocolate is added and it is baked on a special biscuit.
In Italy they use ricotta or mascarpone and honey. Candied fruits are also often added. In France gelatin is used as a binding ingredient, resulting with a very light cake.
In America cream cheese is used sometimes alone and sometimes in combination with heavy whipping cream. The cakes are usually baked unlike in United Kingdom, Australia and New Zealand where they are not baked and have gelatin as a bonding factor
But enough about cheese, here are my favorite easy cheesecake recipes:

Share Your Recipes And
View Visitor's Recipes Here
Do you have a favorite easy cheese cake recipe and would like to share it?
Did you ever bake a cheesecake that was just great? Which one is your favorite cheesecake recipe?
Share with us your cake recipe that you love the most!
Take a look at the recipes submitted by our visitors, just like YOU!
Click below to see more easy cake recipes from other visitors to this page...

Delicious Cheese Cake

Delicious Cheese Cake Recipe Shortbread recipe for the crust: 150 g flour 120 g butter 50 g powdered sugar 1 egg yolk Cheese filling 1000 …
Return from Cheese Cake Recipes to Easy Cake Recipes Homepage.