Tasty and Easy Cheese Cake Recipe
Try this recipe for cheese cake – you will not be disappointed.
I got this easy cheese cake recipe from my good friend who likes to experiment with new recipes. I was immediately impressed by this cake and decided to add to my on line best cake recipes collection.
It is very tasty and even though it has plenty of calories, you don't feel them when you eat them. My son immediately ate two pieces because he liked it so much. Best of all, it is also easy to make.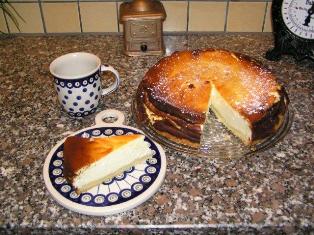 One great thing that I like about cheesecakes is that they can be frozen and eaten later. So, if you are planning a party, you can bake the cake ahead of time, freeze it as a whole, and then take it out a day before your party to slowly defrost in a refrigerator.
This recipe for cheese cake requires quark. If you cannot buy quark in your local food store, then you can take 900 grams of ricotta and blend it with 100 grams of sour cream. Also, you can have it shipped to your house at http://butterandcheese.net/quark.html You can try as well German, Polish, or other European stores in your living area.
Easy Cheese Cake Recipe
Shortbread recipe for crust:
• 200 g flour (1 1/3 cup)
• 30 g sugar (1.1 oz)
• 100 g butter (3.5 oz)
• 1 pinch of salt
• 1 pinch of baking powder
• 1 egg
Filling:
• 1 kg low fat quark (2.2 lb) or 900 grams ricotta and 100g sour cream
• 500 ml cream (17 fl oz)
• 230 g sugar (8.1 oz)
• 4 eggs
• 1 pack of vanilla pudding powder

Preheat the oven to 190°C – 375°F
To make the crust:
• Knead the flour, butter, sugar, cream and pinch of salt to smooth dough. I recommend using the hook attachment on most mixers, but you could use your hands.
• Roll the dough until ¼" or thinner on a silicone baking mat, and if you don't have one, use wrapping foil.
• Flip the dough onto a round 11"form. You can cover the sides with dough if you want to.
• Make couple of holes with a fork in the dough so that the steam can escape.
• Bake it at 180°C for 15 minutes or until golden brown.

To make the cheese filling:
• In a mixing bowl mix with an electric mixer the quark, cream, sugar and egg yolk. Add the pudding powder and mix well.
• Beat the egg whites and add to the cheese mixture using a spatula.
• Wrap outside of the 11 inch springform pan with aluminum foil.
• Pour the cheese mixture onto the baked bottom.
• Place the aluminum foil wrapped pan into a large oven proof pan. Pour hot water into the large pan until it reaches ½ inch up the sides of the pan.
• Bake 1 hour at 190°C. If you are using a bigger form (14 inch) you need to lower the temperature to 160°C and bake only 35 minutes.
• To test for doneness, gently shake the pan. The top of the cake should move as one solid piece. There should be no soapy movement in center.
• Remove from oven to cool. Refrigerate for 12 hours. Cake will set completely when refrigerated.

Enjoy my Easy Cheesecake Recipe
This Easy Cheesecake Recipe came from my friend's cake recipes collection

Click here to rate this recipe
---
Return from Easy Cheese Cake Recipe to Cheese Cake Recipes
Return from Easy Cheese Cake Recipe to Easy Cake Recipes Homepage