Easy Puff Pastry Recipes for Quick Easy Desserts
Try them out for desserts, as cookies, or quick and easy cakes
My puff pastry recipes are very easy to make. If you want to make quick easy desserts you have found the right web page. Below, I have listed couple of puff pastry dessert recipes that I hope you will enjoy.
From the collection below you can pick the one your family would like the most or make all of them if you are expecting plenty of guests. You can also half the puff pastry dough as well as the stuffing and make two different desserts from one pack of the dough.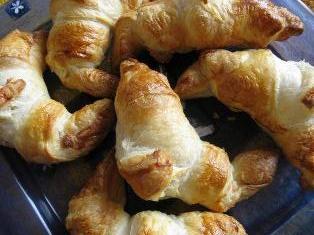 Puff pastry is a light flaky pastry which has couple of layers. In between the layers is fat which is solid at room temperature.
The process of making puff pastry is very time consuming and it is not easy. The dough must be rolled out, and then it is spread with solid fat (usually butter) and folded, then again rolled out, spread with butter and folded, and so on and so on.
The process is time consuming because the dough must rest in between the folds and in addition must be kept at a low temperature.
That is why I recommend buying the puff pastry in a supermarket where it can be found in the cooled section or in the freezers. If you have frozen dough, make sure to follow the manufacturer's instructions to unfreeze it.

Puff pastry is very nice to eat. As the name suggests it is fluffy and light. My kids love the light dough and they like it when I make the pieces small.
They fit nicely in their hands. Beneath are few recipes for quick and easy desserts that you can make with your kids. They could help with the filling or the folding and will have plenty of fun.
I hope that you will enjoy my easy puff pastry dessert recipes.


Return from Puff Pastry Recipes to Easy Cake Recipes Homepage