Try my puff pastry recipe for super easy cookies
Need quick easy desserts
you found it!
This puff pastry recipe is the easiest and quickest in my whole recipes collection. This puff pastry dessert recipe requires only the readymade pastry, one egg, sugar and cinnamon. If you are looking for something quick and in the same time good looking and tasty then this is a recipe for you.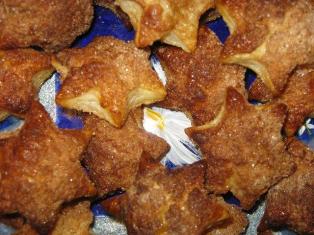 For this easy dessert to make you just cut out from the puff pastry sheet circles or stars, smear with egg and sprinkle with cinnamon sugar. It laterally takes 5 minutes to make and maybe 7 to bake. I recommend this as a quick and easy sweet snack that even those with no baking experience can master.
I like baking these cookies for Christmas since cinnamon always reminds me of that time of the year. Of course, if you like, you can bake them at anytime. One can sprinkle them only with sugar or with sugar mixed with a touch of cocoa. In addition, you can also use chopped nuts instead of cinnamon.
I hope that you will enjoy this easy puff pastry dessert recipe as much as I do.
Puff Pastry Dessert Recipe for Cinnamon Cookie
For the cinnamon cookies:
• 1 pack of puff pastry
• 1 egg
• 2 spoons of sugar
• 1 coffee spoon of cinnamon

Prepare the cookies:
• Roll out the dough and cut out circles using a cookie cutter.
• Place them on baking paper and smear with slightly beat egg.
• Mix sugar with cinnamon and sprinkle the cookies with it.
• Bake according to the instructions on the packaging.

This puff pastry dessert recipe comes from "Najlepsze przepisy kuchni polskiej" by Marek Lebkowski



Click here to rate this easy recipe
---
Return from Puff Pastry Recipe to Puff Pastry Recipes
Return from Puff Pastry Dessert Recipe to Easy Cake Recipes Homepage