Homemade Soccer Birthday Cake
Try my birthday cake ideas for an easy soccer birthday cake (football)
I made this soccer birthday cake for a son of British friend of mine. She didn't have any birthday cake ideas and I came up with this one. Her son plays soccer, but in England it is known as football, so that is why I also called this cake a football birthday cake.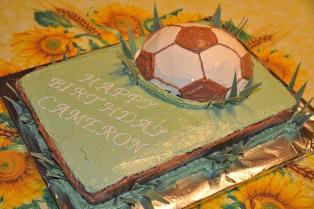 If you are looking for soccer birthday cake ideas, then I hope that I will be able to help you.
I baked a rectangular cake with a partial soccer ball on it, but if you like, you can buy from Wilton a soccer ball cake pan, and bake a whole ball as the cake.
You can also make a grid of the soccer field on the cake and write happy birthday on it.
Another idea for a soccer homemade birthday cake is to make the rectangular cake a goal with a soccer ball in it. You just ice the top surface of the cake green, and then, draw a net with white icing on top.
Add the ball in the middle. You can make it three dimensional (baking part of the ball) or just draw it on with some black and white icing.
I made my soccer birthday cake using a rectangular pan (9 x 13 inch or 23 x 33 cm) and my easy cake recipe.
The ball part was baked in a stainless steel bowl that I use to melt chocolate. For the soccer ball I used a chocolate cake sponge recipe and poured the cake batter into the bowl and the rest into a 6" spring form.
If you don't want to buy a special form or just simply can't buy it, like myself, then be creative. I read of people using a kitchen aid mixing bowl or you can also use an oven proof glass bowl. If you use glass, you might need to bake the cake a little longer.

For the soccer ball icing I used one recipe of chocolate buttercream frosting and buttercream icing.
I live in Germany where food coloring is not that readily available so that is why I used chocolate buttercream instead of using black food coloring. The rest of the icing I used to ice the cake.
I cut the rectangular cake into two layers and smeared some of the chocolate icing on the bottom. I used the rest of the chocolate frosting to ice the sides of the cake.
I wanted to cover the sides of the cake with chocolate shreds, but honestly forgot to do it, so you can use them or not. I set aside a 1/2 of a cup of the white buttercream and colored the rest green which I used to ice the top of the cake.
I placed the ball on the top, wrote happy birthday, and was almost done with my soccer birthday cake.
To make the grass, I melted white chocolate, added some green food coloring, spread thinly on baking paper and placed in the freezer for 2 hours.
When I took out the frozen chocolate from the freezer, I tried to cut it into grass. It broke into tiny unusable pieces. I figured out that the chocolate was much easier to cut when I waited for only 5 minutes. Afterwards, the chocolate became easy to work with and the grass came out great.
The finishing touches were quick, maybe too quick. I admit that I made this cake at night, was tired, and just wanted to be done. At the end I got sloppy with the frame of the cake.
I just squeezed from a piping bag the left over icing all around the cake, but I should have piped small stars to make it look pretty. I placed the grass in couple of patches and the cake was ready.
Now when I look back on this football birthday cake, it was not that difficult to make. The pirate ship cake was more involved, not mentioning the princess castle cake. I hope that I was able to help you and give you some soccer birthday cake ideas. Enjoy your homemade soccer birthday cake.

Click here to rate this cake idea
---
Return from soccer birthday cake to Easy Kids Birthday Cake Recipes
Return from Football Birthday Cake to Easy Cake Recipes Homepage