Polish Christmas Traditions
Polish Christmas Recipes For Desserts
As I am Polish, I wanted to share with you the Polish Christmas Traditions that are common at my home. Of course I will mostly share with you Polish Christmas recipes for desserts, as I have a sweet tooth, hence this site. I will include a recipe for Kutia (a poppy seed-honey concoction), a poppy seed strudel, a nut strudel, and more.
Polish Christmas Traditions and Recipes

Kutia is is a concoction made of poppy seed, wheat grain, honey, and dried fruits. It is sweet and chewy due to the fruits, nuts, and honey.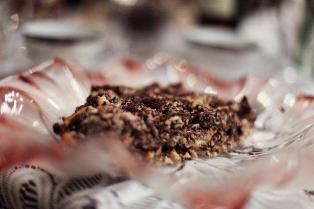 In Poland, preparations for Christmas start early. One can make plenty of foods ahead of time and freeze them. At my home, we always eat Borschtsch (clear red beet soup) with small ravioli, called "uszka." I make them in October and freeze them, that way during Advent I have time to bake 10 different types of cookies.
As I live in Germany, some of the Polish Christmas Traditions got lost in my household, but I still keep the most important ones. We go to church on the 25th, we share the "oplatek," and I make my husband read from the Bible before we start eating.
I have to admit that I decorate my tree early in Advent since I like the way it looks. If you would like to make a truly Polish Christmas for somebody special, then here are some tips.


Some of the most common Polish Christmas Traditions are:
• Christmas Eve is much more celebrated then Christmas Day. All the good food is prepared for Christmas Eve, and usually on Christmas Day the leftovers are eaten.
• The Christmas Eve table is set for one extra person, just in case somebody unexpectedly comes over. This symbolizes that fact that Joseph and Maria were also knocking on strangers doors, asking for shelter.
• Straw is put under the table cloth.
• Wigilia (vigil night)– the supper before Christmas day – starts usually at 6 pm, when the first star appears on the sky.
• Usually the head of the house reads a passage from the Bible about the night Jesus was born and then the "oplatek" sharing begins.
• Sharing the "oplatek" (Christmas wafer) with the family and wishing each other all best.
• 12 different dishes are served during the "wigilia" – vigil night. No meat is served, only fish, mostly carp made in all possible ways.
• The Christmas tree is decorated on Christmas Eve.
• Poles go to Church on Christmas day (25th of Dec.), not on the 24th as for example in Germany. The midnight mass (Pasterka) is very popular, as it starts at midnight, therefore counting as Dec. 25.
• 25th is a holiday to be celebrated with the family. No cooking or cleaning is done, just leftovers from the feast from night before.
• In Poland the 26th of Dec. is also a holiday. The Holy Family is celebrated on this day.

Above are the Polish Christmas Traditions, and below you will find some Polish Christmas Recipes. I hope that if you try them, you will like them.
Share Your Recipes And
View Visitor's Recipes Here
Do you have a favorite traditional Christmas recipe?
What is your favorite traditional Christmas recipe?

Share with us your Christmas recipe that you love the most!
What Other Visitors Have Said
Click below to see contributions from other visitors to this page...

Makiełki Not rated yet
Makiełki 200 g poppy seeds 50 g almonds 50 g nuts 50 g raisins Package of biscuits Execution Blanch and grind the poppy …
Return from Polish Christmas Traditions to Easy Cake Recipes Homepage