Poppy Seed Strudel from my Strudel Recipes Collection
Try this easy cake recipe next time you have to bake a traditional Christmas cake
The traditional poppy seed strudel is something that all people who enjoy baking should try.
There are many strudel recipes, some more complicated than others. This easy cake recipe will surprise you with its simplicity and its wonderful taste. The strudel dough is based on yeast cake and since it grows, you end up with plenty of dough. That is why this recipe yields two cakes.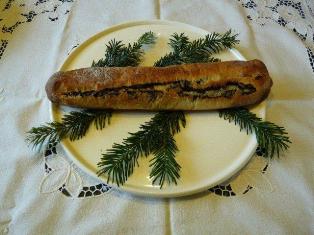 This Poppy Seed Strudel is a traditional Christmas cake recipe. It is also liked very much in Germany and it looks more difficult to make then it really is.
My recipe for the yeast dough is easy and makes a perfect base for making a delicious strudel. The dough is easy to roll out and with some flour it does not stick anywhere.
If you like, cover it with simple lemon icing (recipe at the bottom of almond strudel recipe) to prevent it from drying out and store the cake in a refrigerator so that you can enjoy it for couple of days. If you do that, the cake will stay moist, allowing you to prepare it ahead of time.
You can also freeze the cake and take it out once you need it. It will still taste great. I never have a need to freeze my strudels since my husband and my son fight over it and cakes usually disappear at my home in two days.
Enjoy my traditional tasty and fool proof poppy seed strudel recipe. This recipe yields two strudels.
Poppy Seed Strudel
Prepare one strudel dough as directed on my strudel dough page.

For the poppy seed filling:
• 400 g poppy seeds (14.1 oz)
• 2 egg whites
• 200 g sugar (1 cup)
• 40 g butter (1.4 oz)
• 2 tablespoons of honey
• 150 g raisins (5.3 oz)
• 50 g candied orange peel (1.8 oz)
• Lemon peel from a whole lemon
• ½ vanilla bean

How to make the strudel:
• While the yeast cake doubles its volume, prepare the poppy seed filling.
• Cut the vanilla been lengthwise and scratch the inside with a knife.
• Clean the poppy seed. Move it to a pot and pour boiling water onto it. Cook for 10 minutes. Strain it well and grind 3 times.
• Melt butter in a pot; add the poppy seed, sugar, honey, rinsed raisins, orange peel, lemon peel, and vanilla.
• Cook for 10 minutes on low heat.
• Cool off and add whipped egg whites, mix well.
• Preheat the oven at 180°C – 355°F
• Continue to follow directions on the strudel dough page to finish the cake.

Once the cake has cooled off you can sprinkle it with powdered sugar.

Source: "Najlepsze przepisy kuchni polskiej" by Marek Lebkowski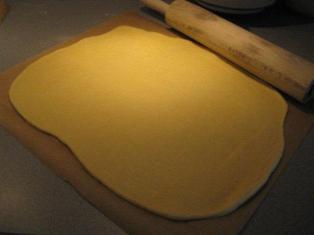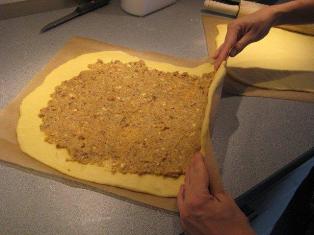 Click here to rate this easy cake recipe
Here is a poppy seed strudel comment written by my visitors:

Mar 12, 2010
Rating: Great
Did you enjoy this cake? YES
Were the directions easy to follow? YES
Janina from Canada wrote: This is a really tasty strudel.Just like my Mom used to make. Be warned that it makes a lot of pastry. Thanks for such a beautiful recipe.
---
Return from Poppy Seed Strudel to Strudel Recipe
Return to Easy Cake Recipes Homepage