Easy Moist Carrot Cake Recipe
If you need healthy cake recipes then try this sugar free cake recipe
This easy moist carrot cake recipe is one of my healthy cake recipes. It is a completely sugar free cake recipe since it only has honey. This easy carrot cake recipe calls for whole wheat flour, but if you don't like this type of flour, you can substitute it with regular flour.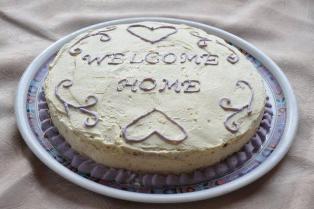 This best carrot cake recipe also requires cinnamon. Go easy on it since it is an overwhelming spice. If you add too much, it will dominate the taste of the cake.
I used a white chocolate cream cheese topping, but you can just sprinkle this delicious cake with powdered sugar, making it a relatively healthy cake.
You can also store this easy carrot cake in a fridge for up to 5 days or in a freezer for 3 months. I recommend wrapping the carrot cake tightly in a plastic wrap before storing it to prevent it from drying.
Enjoy my easy moist carrot cake recipe.


Moist Carrot Cake Recipe
For the easy carrot cake:
• 2 cups (200 g) of finely shredded carrots
• ¼ cup of lemon juice
• 1 cup (150 g) of flour
• 1 cup (125 g) of whole wheat flour
• ½ teaspoon of salt
• ½ teaspoon baking powder
• 1 teaspoon baking soda
• 1 teaspoon cinnamon
• 2 large eggs
• 142 g melted butter (10 tablespoons)
• ¾ cup of honey (250 g)

Preheat the oven to 175°C (350°F)

Prepare the easy carrot cake:
• Combine the carrots and lemon juice in a small bowl. Set aside.
• Mix the flour, salt, baking powder, baking soda, and cinnamon in a mixing bowl.
• Add the eggs, butter, honey, and carrot mixture.
• Mix on low speed until the dry ingredients are moistened, then mix it for 30 seconds on high until the batter is well blended.
• Grease and flour a 9 inch round spring pan or a ring mold.
• Pour the batter into the form and bake 30 minutes at 350°F (175°C).
• The cake will be ready when it springs back when pressed slightly on the center and a tester comes out clean.
• Let the cake cool off for 10 minutes on a rack before unmolding.
• It is best to store the cake for at least one hour in a fridge before frosting, to prevent crumbing.
• I used my white chocolate frosting recipe to complement this cake.



Click here to rate this easy cake recipe
---
Return from Moist Carrot Cake Recipe to Best Cake Recipes
Return from Easy Carrot Cake Recipe to Easy Cake Recipes Homepage