Fruit Cake Recipe Collection
Try these best cake recipes – you will love them
Find your fruit cake recipe here.
Custom Search
If you are looking for a fruit cake recipe then you came to the right place.
There are so many easy cake recipes with fruits that it might be difficult to pick one. All my best cake recipes have pictures to help you choose the perfect suitable simple cake.
Best Fruit Cake Recipes

This Peach Cake Recipe was originally made with peaches, hence the name. I changed it to plum cake recipe since I used plums. Try this delicious cake today!

Plum Cake Recipe that is done in no time and best of all it tastes great.

Best Recipe for Strawberry Cake ever! One piece will not be enough. You will want to eat more. Try it out today!

Best Lemon Cake Recipe for hot summer days. Need lemon cake recipe? Try this refreshing and easy cake!

Delicious Flourless Cake Recipe. Try this dark chocolate raspberry cake recipe as easy summer dessert!

Moist Banana Cake Recipethat is easy and fast to make.

Great Apple Pie Recipethat is simple and kids friendly - you can have them help you make it.

Try the Polish Apple Cake Recipe - "szarlotka", a delicious variation of shortbread apple cake

Best plum cake from my easy cake recipes collection. You will love the contrast between the crunchy meringue and plums. Try this delicious cake!

Best Fresh Apple Cake Recipe for a great looking cake and even better taste.

Easy fruit cake recipe with red currants. Simple cake recipe that can be flourless if you have gluten intolerance.

Moist Raspberry Coffee Cake Recipe that will impress even the most demanding guests.

Easy Tiramisu Cake Recipe. Delicious recipe for strawberry cake - a perfect easy summer dessert.

This cherry cake recipe is really just a simple yellow cake with cherries in it. It is really a very easy cake recipe that can be done next to making dinner.

This Cranberry Upside Down Cake is so moist, and so good that you just have to try it. The first word that I uttered after taking one bite was "wow." I hope that that explains everything.

This applesauce cake recipe is little different than most of my fruit cakes. This apple cake recipe has whipped cream icing on top, making this cake a little festive. If you need easy to make cakes that should be moist and look good, then you have to give this one a try.

This best apple pie recipe might be a little involved, but it will guarantee best homemade results. Try it out.
I like fruit cakes the best since they are moist and the fruits add some contrast to the usually sweet dough. It is best to use fresh fruits but you could also use frozen ones.
I have a raspberry cake recipe where you could use frozen raspberries. I always make that cake for my birthday which is in December and here in Germany one cannot get fresh raspberries in winter, so I use frozen ones and the cake tastes great anyway.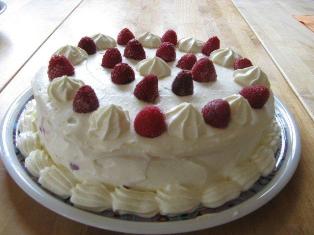 In my fruit cake recipe collection you will find different plum cake recipes. The plums I use are called in Latin prunus domestica, subsp domestica, in German Zwetschge. They are sweet sour, have a deep blue-purple color, and oval shape.
If you don't have access to this type of plums, try the Damson or Damask Plums. The Damson plums are also used in Croatia and other Slavic countries to make slivovitz (sliwowica), a distilled plum spirit.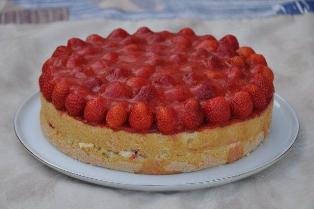 For my cherry cake recipes you need sour cherries. Because it is difficult to get them in a regular store, I usually use the morrelo cherries that come here in a jar as compote.
You should be able as well to use frozen sour cherries. You just need to defrost them and drain the juice. They retain their taste wonderfully
As to apples, raspberries, and pears, they are usually available everywhere on the globe fresh and you just need to pick the type that is right for baking.
I usually write the type of apples that I use, but I understand that you might not be able to buy the same sort. Just ask in the grocery store, which apples or pears are suitable for cakes.
Having said all that about the fruits needed to make some of my best cakes, I encourage you to scroll down and take a look at these wonderful easy cake recipes.
Whatever fruit cake recipe you are looking for, I hope that you will find it here.


Return from Fruit Cake Recipe to Easy Cake Recipes Homepage