Yummy Apple Pie Recipe
Try this easy fresh apple cake recipe – you will not be disappointed
This apple pie recipe is based on shortbread. It is a simple cake that tastes great. The pie, if eaten on the first or second day will be crispy and your whole family will love it.
I have couple of apple cake recipes and this fresh apple cake recipe is one of the easiest. This is an easy cake recipe since there is no need to cut the apples into small pieces.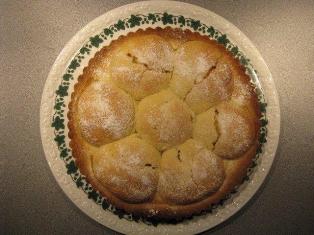 You should take care to select the right apples, though. The apples should be sweet/sour and juicy. The juice is important since once the apples bake they will turn to shaped apple sauce (literally).
If your apples are not juicy then you will have to bite them as you eat the cake and the whole effect of the pie will be gone. I use Cox Orange apples, but any other type that fulfills the sour juicy requirement is fine too.
Enjoy this fresh apple cake recipe.

Apple Pie Recipe
Shortbread recipe for the crust:
• 300 g flour (2 cups)
• 200 g butter (7 oz)
• 100 g sugar (1/2 cup)
• 2 table spoons of cream
• Salt
For the apple filling:
• 3.5 apples
• 100 g sugar (1/2 cup)
Powdered sugar to sprinkle

Preheat the oven at 180°C – 355°F

Prepare the shortbread dough:
• Knead the flour, butter, sugar, cream and pinch of salt to smooth dough. I recommend using the hook attachment on most mixers, but you could as well use your hands.
• Cover the dough with plastic foil and place it in a fridge for 30 minutes.
• Roll out half of the dough until ¼" or thinner on a silicone baking mat,
and if you don't have one, use wrapping foil. Flip the dough onto a round 9"form; make sure that the sides of the form are also covered. Prick the dough with a fork so that the steam can escape.
• Bake it at 180°C for 15 minutes or until golden brown.
• Roll out the second half of the dough and set aside.

Prepare the apple filling:
• Peel the apples and cut the apples in 3 pieces, so that the middle piece has the seeds.
• Make small incisions on top of the round pieces.
• Grate the apple pulp from the middle slice and cook it with 70 g of sugar until some of the liquid evaporates and rough apple sauce forms.
• Spread the apple sauce onto the baked bottom, place the apple pieces round side up and sprinkle with the rest of the sugar.
• Cover the pie with the dough that you set aside earlier and bake for 30 minutes at 200°C (395°F), sprinkle with powdered sugar.

Enjoy!
This apple pie recipe comes from "Najlepsze przepisy kuchni polskiej" by Marek Lebkowski.

Be the first one to click here and rate this easy cake recipe!
---
Return from Apple Pie Recipe to Fruit Cake Recipe collection
Return from Apple Pie Recipe to Easy Cake Recipes Homepage