Easter Desserts And Cake Recipes With Pictures
Quick and Easy Holiday Desserts
Easter Desserts vary from country to country. I collected quite a few different Easter dessert recipes, mostly from Europe. As I will experiment with more ideas I will add more Easter cake recipes to this page.
I have some quick and easy Holiday desserts, but some require more work, such as the chocolate cheesecake.
Best Easter Desserts

Try my Polish Easter recipes that are always a hit and just something else. If you need an original and different Easter dessert then you have to give this one a chance.

Delicious walnut cake recipe. This is one of my mom's favorite so I hope that you will like it too.

Best Easter bunny cake recipe that is easy and quick to make. You can also make a Easter lamb cake out of this recipe if you like.

This fudgy brownie recipe makes best chocolate brownies. They are chewy, soft, chocolaty, and just taste great.

Delicious Coffee Cake Easy Recipe. If you need best coffee cake recipes, then this one is a must. It always comes out and tastes great.

Best cinnamon coffee cake recipe that is easy and quick to make. Try this best coffee cake easy recipe next time you have guests over.

Try this Best Red Velvet Cake Recipe next time you need to make an easy birthday cake.

This chocolate cheese cake recipe delivers a delicious, creamy, and smooth cake. There are many chocolate cheese cake recipes and this one is one of the best.

This easy moist carrot cake recipe is one of my healthy cake recipes. It is a completely sugar free cake recipe since it only has honey.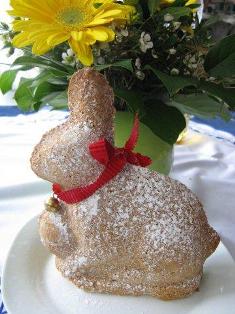 In Germany, a dining table for Easter usually has a bunny baked from yeast dough, but for example in Poland, a lamb made of sugar is placed in the middle. In the West, a bunny is a symbol of Easter surrounded by plenty of colorful eggs.
In Germany kids get chocolate eggs everywhere they go. My daughter gets always a huge bag of chocolate bunnies and eggs from the kindergarten, which I then have to hide from her.
My problem with the overabundance of chocolate is that my kids won't eat my cakes and the chocolate they get is milk chocolate and I cannot even use it for baking.
My favorite Easter cake recipes and desserts are the yeast Easter bunny and the short bread cookies. My husband enjoys the chocolate cheesecake the most since he is a cheesecake fan.
The German side of the family like the easy Easter cakes such as the coffee cake easy recipe. I hope that you will be able to find something on this page that you will like and enjoy.
Return from
Easter Desserts to Easy Cake Recipes
Homepage