Traditional Christmas Baking Recipes and Desserts

Homemade cookies and cakes for your family
Christmas get-together
Are you looking for Christmas baking recipes? Do you want to bake a traditional Christmas cake and need a recipe? You have found the perfect place.
There are so many Christmas dessert recipes that it makes picking one quite difficult. I hope that this page will help you in making this decision.
I have to confess that I used to bake only German Christmas cookies, Linzer torte, and maybe a Poppy seed strudel or a Stollen for Christmas, but now the Yule Log and Mince Pies are a part of my crazy Christmas preparations.  
Christmas in Germany is the biggest baking time of the year, and it starts in the last week of November where all the "good housewives" bake like mad at least 10 different types of cookies.
German cookies are great since they are mostly easy to make and they store well.
You won't find them on my Christmas baking recipes page, but you can go to my Christmas cookies page and there you can pick the ones you would like to try.  They are a great easy Christmas dessert since you can prepare them way ahead of time.
Poppy seed strudel or a Stollen with the right recipe and good instructions is easy even for a beginner baker. So, since I wanted to devote more time to the main meal at Christmas, I only did what I considered as easy Christmas baking - something that can be done ahead of time and is not too complicated.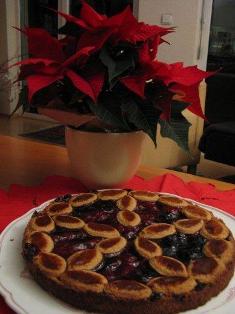 However, since I needed to write about traditional Christmas cakes from other parts of the world, I had to try many different recipes. I have to say that this experience was an eye opener to all different kind of delicious Christmas desserts.
Because of this website, the Yule log found its way to my Christmas table and my family became a big fan of mince pies. I heard of mince pies the first time when I read Harry Potter and they were sitting at the back of my mind for a while. After trying them out, I had to agree with Ron and Harry. These little treats are bliss.
Another recipe that I enjoy very much is the cranberry upside down cake. I have to admit, my kids didn't like it. My husband and I were actually quite glad, since that left more for us.
I usually make this recipe in November, when fresh cranberries are avaiable in the stores.

I really hope that you will enjoy all these different Traditional Christmas baking and dessert recipes.
---
Share Your Recipes

And
View
Visitor's Recipes Here
Do you have a favorite traditional Christmas cake recipe and would like to share it?
Did you ever bake a cake that was just great? What is your favorite Christmas cake recipe?

Share with us your easy cake recipe that you love the most or tell a story about a Christmas cake you baked!

What Other Visitors Have Said
Click below to see contributions from other visitors to this page...

Polish Gingerbread Recipe (Piernik) Not rated yet
Gingerbread Recipe 4 eggs 2 cups sugar 4 cups + 4 tablespoon flour 1 cup raisins 1 cup honey 1 cup sour cream 2 teaspoon baking soda …
---
Return from Christmas Baking Recipes to Easy Cake Recipes Homepage