Linzer Tart Recipe
Linzer Torte – the German traditional Christmas cake recipe
My mom in law gave me this Linzer tart recipe since it is a traditional Christmas cake in Germany. Christmas in Germany cannot be celebrated without at least one Linzer torte.
I usually bake two since they can be stored for a while in an air tight container. Christmas in Germany really is wonderful and if you would like to celebrate your holiday the way people do here, then I have to recommend this traditional Christmas cake recipe.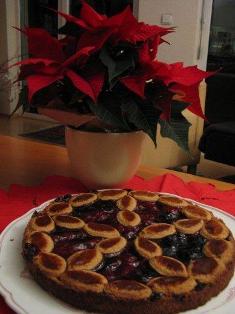 This traditional Christmas cake recipe was developed by my mom in law. There are many different Linzer torte recipes, but of course, this one is my husband's favorite so I only use this one. I saw a Linzer torte recipe that uses almonds, making the cake taste much different.
I like it much better with hazelnuts and I recommend you to try this one.
Enjoy my Linzer tart.


Linzer Tart Recipe – Traditional
Christmas Cake
For the Linzer torte:
• 200 g flour (1 1/3 cup)
• 1 teaspoon baking powder
• 125 g sugar (1/2 and 1/8 cup)
• 1 tablespoon of vanilla sugar
• Couple drops of almond essence
• 1 knife tip of grounded cloves
• 1 teaspoon of cinnamon
• 1 egg white
• ½ egg yolk
• 125 g butter (4.4 oz)
• 125 g grounded hazelnuts (4.4 oz)
• Glass of red currant or cranberry jelly

Preheat oven to 220°C – 430°F

Prepare the Linzer tart:
• Knead the flour, butter, sugar, egg white, vanilla sugar, baking powder, almond essence, cloves, cinnamon, and hazelnuts to smooth dough. I recommend using the hook attachment on most mixers, but you could use your hands.
• Cover the dough with a plastic foil and place it in a fridge for 30 minutes.
• Press half of the dough onto a 9" or 10" round tart form and smear the jelly 3 mm thick onto it.
• Roll the rest of the dough out and cut out shapes (stars or ovals) and place the cut outs on top of the jelly leaving some space in between (making a flower or a star).
• Beat the egg yolk with a fork and using a brush smear the yolk onto the cut outs.
• Bake at 220°C (430°F) for 15-20 minutes.




Click here to rate this easy cake recipe
---
Return from Linzer Tart Recipe to Christmas Baking Recipes
Return from Linzer Tart Recipe to Easy Cake Recipes Homepage