Easy Kids Christmas
Cookies Recipes,
German Cookies and More
Best Tested Christmas Baking Recipes
Who doesn't need easy kids Christmas cookies recipes? Everyone.
You don't need to have a family to have some easy recipes that even kids can handle. Cookies are great for quick desserts and in between snacks.
Easy Kids Christmas Cookies Recipes

Crunchy Chocolate Cookies - No Bake Cookie Recipe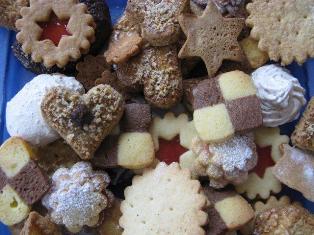 If you are looking for easy Christmas baking recipes then most of the cookies below definitely make the cut. In my collection of easy German Christmas cookies recipes you will find plenty of Christmas baking fun.
Of course you will need to help and guide your kids. They can measure the ingredients, help to shape the cookies, cover with sugar icing, or use a small pastry bag to do the final touches. The key to baking with kids is time. You shouldn't get impatient that it takes three times as long as if you would do it yourself. If you invest some time into baking with kids, you will see that this can be a rewarding and bonding experience.
My favorite cookies are the gingerbread cookies that fit right into ones mouth. I have my kids help me with them. They help with cutting them out and with "painting" the cookies using a kitchen brush with slightly whipped egg. That makes the cookies shiny when baked.
Another great cookie to make with kids is the vanillegipferl - my sugar cookies recipe. They can have plenty of fun shaping the cookies. I let them make a long noodle using a "playdoh" syringe. They are delighted when they are able to use their toys for real baking.
I think that the best Christmas cookies are the ones that fit in your mouth in one bite. I am a big cookie fan, and for Christmas I tend to go a little overboard. We end up eating Christmas cookies well into January.
Most of my easy kids Christmas cookies recipes come from my friends, my favorite cook book, and of course from my mom-in-law. She was the one who introduced me into German Christmas baking and pushed me into the frenzy of the "crazy housewives," who bake for one week nonstop cookies. One year I baked so much that I got a chronic back-ache. Since then, I toned down a bit.
I hope that you will have fun with or without your kids when you try out some of my easy Christmas cookies recipes. I invite you to take a look below at these great German Christmas cookies recipes and much more!

Return from Easy Kids Christmas Cookies Recipes to Easy Cake Recipes Homepage