Italian Christmas Cookies Recipes
Try these Christmas baking recipes
These Italian Christmas cookies have a cannelloni shape and are filled with marzipan paste. They are crispy on the outside and chewy on the inside.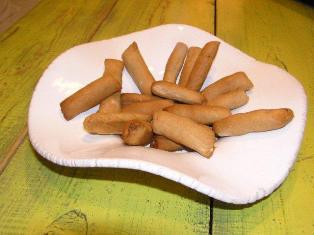 I don't have many Italian cookies recipes. I received this Christmas dessert recipe from a friend who baked them last year. If you are looking for original Christmas baking recipes, then you have to try this one.
For these Italian Christmas cookies you will need 10g of "Lebküchengewurz." You can buy it ready made in a German store or in a Polish store under the name of "przyprawa do piernika." You can also make it yourself by following the simple recipe below.
I hope that you will enjoy these Italian Christmas Cookies.
Italian Christmas Cookies
To make the Lebkuechen spice "Lebküchengewurz" you will need:
• 2 teaspoons ground cinnamon
• 1 1/2 teaspoons ground cloves
• 1/2 teaspoon ground nutmeg
• 1/2 teaspoon ground ginger
• 1/2 teaspoon cardamom

For the Italian Cookies:
• 150 g (5.3 oz) honey
• 50 g (1/4 cup) sugar
• 1 pinch of salt
• ¼ teaspoon baking powder
• 1 medium egg yolk
• 1 ½ tablespoon (10 g) lebkuechen spice
• 200 g (1 1/3 cup)flour
• 50 g (1.8 oz) sliced almonds
• 200 g (7 oz) marzipan
• 2 tablespoons Amaretto (or 2 tablespoons water)
• 5 drops of bitter almond oil
• A little of powdered sugar

How to prepare the Italian cookies:
• Place the hones, sugar, pinch of salt, and 2 tablespoons of water in a cooking pot and bring to boil.
• Remove from the heat and cool off completely.
• Add the baking powder, egg yolk, and lebkuechen spice to the honey mixture. Mix well.
• Place the flour in a mixing bowl of your table top mixer and add the honey mixture. Knead until all ingredients are combined. You can also do this by hand.
• Cover the dough with clear foil and place overnight in the refrigerator.
• Place the almonds in a frying pan and fry without fat until golden brown. Cool off.
• Knead the marzipan, Amaretto, and bitter almond oil to a paste.
• Form thin rolls from the paste on a tabletop sprinkled with powder sugar. Makes about three 25 cm (9.8 inch) long rolls.
• Preheat the oven to 190°C (375°F).
• Roll the honey dough to about 25 cm x 25 cm (9.8 x 9.8 inch) square. Sparingly paint it with water using a brush.
• Divide the rolled out dough into 3 rectangles and place the marzipan roll onto each one.
• Roll each of the rectangles in such a way that the marzipan paste ends in the middle, creating a filled cannelloni shape.
• Cut the long filled roll into 5 cm (2 inch) long pieces.
• Place the cookies on a lined with baking paper cookies sheet and bake for 12 -15 minutes.
• If you keep the cookies in an airtight container, the cookies will stay fresh for 4-6 weeks.


Click here to rate these easy cookies
---
Return from Italian Christmas Cookies to Easy Kids Christmas Cookies Recipes
Return from Italian Christmas Cookies to Easy Cake Recipes Homepage