Delicious Cake Frosting Recipes
Try my Cake Frosting Recipes such as buttercream icing, royal icing, or whipped cream icing.
Are you looking for cake frosting recipes? I guess you are or you wouldn't be here. There are so many different cake icing recipes out there, it makes it difficult to choose the right one. Below you will find buttercream icing recipe, royal icing recipe, whipped cream icing, and different variations of each.
Classic Buttercream Icing Recipe
Cake Icing Recipes based on buttercream icing recipe. Try the lemon frosting, raspberry frosting, praline frosting, and many more.
Delicious chocolate buttercream frosting with variations.
Delicious cream cheese frosting recipe that is easy to make and just tastes great.
This royal icing recipe is perfect as wedding cake icing, but you can use it really for any cake.
Whipped cream icing recipes. Try these easy cake frosting recipes, next time you make a special occasion cake.
White Chocolate Frosting Recipe that has no sugar since the sweetness comes from the chocolate.
Another White Chocolate Frosting
Italian buttercream frosting recipe that is based on egg whites instead on egg yolks.
Rolled Fondant Recipe. Give this recipe for fondant a try! You will find it easy and the result is better than store bought.
Swiss meringue easy buttercream frosting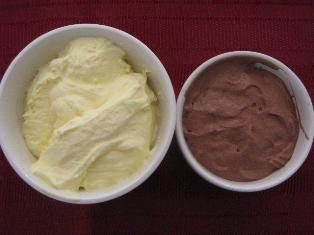 If you are looking for buttercream icing recipe, make sure to look at the ration of butter to sugar, which will tell you more about its taste than any other factor.
If the amount of sugar is too high, it will dominate the flavor completely. Another point to watch out for, is when you decorate, don't go overboard with the icing.
The cake is to be enjoyed also, and if you add too much heavy buttercream icing, then the taste of the cake will get lost.
Whipped cream icing complements any cake since it is soft and does not have a dominant taste. It is best when the whipped cream is beaten to hold soft, not stiff peaks.
If you beat the cream using an electric mixer, then it will double its volume, but if you use a food processor, it will yield an icing that is perfect for piping borders. It will have less volume and it will be more dense and smooth.
One more tip on whipped cream icing: you have to store it in a fridge, so use cakes that will not dry out from the cold, such as sponge cakes. Butter cakes will just get too hard when refrigerated.
I hope that you will enjoy my cake frosting recipes.
Return from Cake Frosting Recipes to Easy Cake Recipes Homepage