Easy cookie recipes
Homemade recipes for cookies
Search here for easy cookie recipes.
Custom Search
Easy cookie recipes are very handy to have. Just as an example, I used my shortbread cookies recipe for my daughter's birthday party since the girls wanted to make shortbread cookies.
Easy Homemade Cookie Recipes
The recipe for cookies was super easy – cut out the cookies from shortbread, bake them, and then frost them with pink sweet-sour coating. The girls loved them and I found out later that they all ate them on the way back home.
My mom never made that many easy cookies in our home. I had to start making them for my husband who being German needed cookies for Christmas.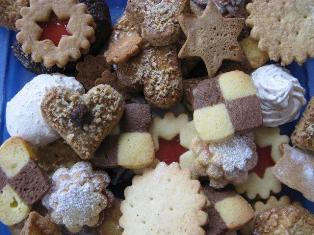 Many of my easy cookie recipes come from my mom-in-law. In Germany, a typical hausfrau bakes cookies all throughout Advent time. To be honest, I usually take two days to finish the job.
Anyway, going back to cookies baking, all you need is just a little of patience. It does take some time to bake them since you need to wait for one load to be done before you bake the other.
For a shortbread cookies recipe or for recipe for sugar cookies, you also need some cookie cut outs, small, medium and large, depending on what you like.
I make my cookies small. I like one bite to be equal to one cookie, but then these cookies are difficult to decorate so they end up being usually very simple.
If you don't like to cut out cookies, then there are recipes for cookies that just require two spoons, like the recipe for chocolate chip cookies.
My recipe for sugar cookies requires only rolling the dough into a thick noodle and making crescents out of it.
Take a look at the pictures below. I'll be adding more as I build this site. Thanks for visiting and enjoy my easy homemade cookie recipes.

Return from Easy Cookie Recipes to Easy Cake Recipes Homepage