Easy shortbread cookies recipe for everybody: deco experts and those who like things simple, like me.
If you are looking for easy kids Christmas cookies recipes, then you have to try this one!
I use this great shortbread cookies recipe every time we go somewhere for vacation. Of course this shortbread cookie recipe is also used for holidays and last time I used it for my daughter's birthday party. What is so great about this shortbread recipe is that you can use it anyway you like.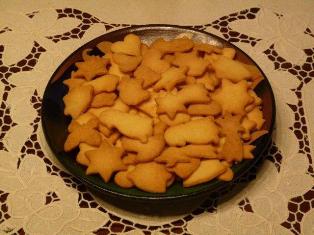 If you are looking for easy kids Christmas cookies recipes then this definitely is one. The kids will love making the dough or you can make the shortbread dough using an electric mixer with the hook attachments, and make the kids roll it out and cut out all kinds of shapes.
You can decorate the cookies with sugar icing (lemon and powdered sugar) and make funny drawing if you like, but if you are like me and don't need the extra work, you can enjoy them plain.
An easy way to decorate with kids is just give them silicon brushes and make them "paint" the cookies with icing. You can also sprinkle the cookies afterwards with different colorful deco.
I have to admit that I don't like any of the artificial stuff that you get in the stores, but I know that kids enjoy colorful cookies.
In addition, you can also decorate the cookies before baking by placing a half of a walnut in the middle or an almond, or a little bit of jam.
You can also sprinkle them with sugar mixed with grounded nuts, or after baking sprinkle with powdered sugar. Enjoy this easy shortbread cookies recipe.
Shortbread Cookies Recipe
For the cookies:
• 300 g flour (2 cups)
• 200 g butter (7 oz)
• 100 g powdered sugar (3.5 oz)
• 1 egg yolk
• Pinch of salt
• 1 egg, slightly whipped

Additional equipment:
• Cookie cutters, but if you don't have any, you could use a glass and cut round cookies.

Preheat oven to 200°C - 390°F.

Prepare the cookies:
• Knead the flour, butter, sugar, egg yolk and pinch of salt to smooth dough. I recommend using the hook attachment on most mixers, but you could as well use your hands.
• Cover the dough with plastic foil and place it in a fridge for 30 minutes.
• Roll out the dough to 1/8 of an inch (2 mm) and cut out cookies with a cookie cutter.
• Smear each cookie with the slightly whipped egg using a brush and bake for about 10-12 minutes at 200°C – 390°F. The time will vary depending on the size of the cookie you bake.

Below is a variation of the shortbread cookies:

Chocolate Shortbread Cookies
For the cookies:
• Add to the ingredients above 50 g of shredded bitter chocolate (1.8 oz) and prepare as directed above.

These shortbread cookies come from "Najlepsze przepisy kuchni polskiej" by Marek Lebkowski


Click here to rate this easy cake recipe
---
Return from Shortbread Cookies Recipe to Easy Cookies
Return Shortbread Cookies Recipe to Easy Cake Recipes Homepage