Delicious recipe for chocolate chip cookies
Need different recipes for chocolate cookies? Try this one!
I have this great recipe for chocolate chip cookies from my friend that loves to bake tons of different cookies for Christmas. She gave me some of her chocolate pecan cookies to try and I was immediately impressed by their taste and texture.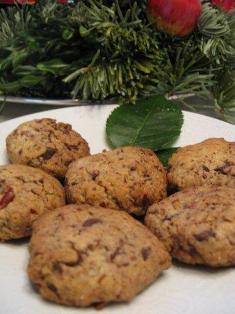 I was looking anyway for diverse recipes for chocolate cookies and was very happy to find these. They are a little different form the original chocolate chip cookies, but I can promise that you will not be disappointed.
My kids loved them and I hope that you will also enjoy these chocolate pecan cookies.
Chocolate Chip Cookies
For the easy cookies:
• 125 g butter (4.4 oz)
• 75 g braun sugar (2.6 oz)
• 1 egg
• 1 teaspoon vanilla extract
• 175 g flour (6.2 oz)
• ½ teaspoon baking powder
• 100 g chocolate chips (3.5 oz)
• 75 g chopped pecans (2.6 oz)

Preheat the oven to 200°C – 390°F

Prepare the batter for the cookies:
• Mix the butter with sugar using an electric mixer.
• Add the egg, vanilla extract, flour and baking powder, mix well.
• Using a spatula, mix in the chocolate chips and the pecans.

Bake the easy cookies:
• Line a cookie sheet with parchment paper and make small heaps using two tea spoons. Make sure to leave at least 2 cm (about an inch) between each cookie.
• Bake at 200°C (390°F) for around 15 minutes or until golden brown.




Click here to rate this easy cookies recipe
---
Return from Recipe for Chocolate Chip Cookies to Easy Cookies
Return to Easy Cake Recipes Homepage