Easy Macadamia Cookies
Looking for cookies in a jar recipes or easy kids Christmas cookies? Try these, they are wonderful.
I first tried these macadamia cookies at my friend's house around Christmas time. She had plenty of easy kids Christmas cookies recipes and cookies in a jar recipes. I found these easy cookies to be really good and that is why I posted them here.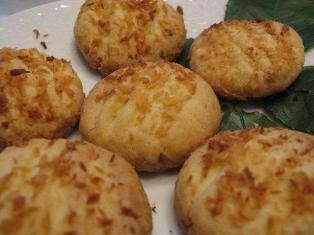 I baked them with my kids and they enjoyed themselves very much. The kids loved forming the cookies in small balls, had plenty of fun, and mom (me) was happy to keep them entertained and get something done at the same time.
I hope that you will also have fun baking them and that you will enjoy these easy cookies.

Easy Cookies with Macadamia Nuts
For the batter:
• 60 g macadamia nuts (grounded) (2.1 oz)
• 80 g sugar (2.8 oz)
• 360 g flour (12.7 oz)
• 250 g butter (8.8 oz)
• 60 g grated coconut (2.1 oz)

Preheat the oven to 200°C – 390°F

Prepare the easy cookies:
• Knead the grounded macadamia nuts, flour, butter, sugar to smooth dough. I recommend using the hook attachment on most mixers, but you could as well use your hands.
• Line a cookie sheet with parchment paper.
• Form small balls and place them on lined cookie sheet.
• Press with a fork the cookie balls to make the top surface flat.
• Sprinkle with the grated coconut.
• Bake at 200°C (390°F) for around 15 minutes.

Enjoy these easy cookies.



Click here to rate this easy cookies recipe
---
Return from Macadamia Cookies to Easy Cookies
Return to Easy Cake Recipes Homepage