Easy recipe for sugar cookies
Perfect shortbread cookies recipe to make with kids
This recipe for sugar cookies is very easy to make and does not require any special equipment. It is one of my many German Christmas cookies recipes from my mom-in-law. You will love these easy cookies once you try them.
I introduced them to my family in Poland last year and they were a hit. I'm confident that you will like them as well.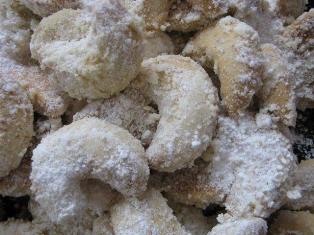 This original recipe for sugar cookies (Vanillegipferl) makes small crescent shape cookies. The cookies are not cut out; one makes a long round noodle and then cuts it into 3 cm (1.5 inch) long pieces, makes the tips pointy and slightly bends the cookie to form a moon.
These cookies can be made with kids and I guarantee a great amount of fun. If you have Play-Doh accessories, you can use them to form the cookies.
With kids you can make bears, locomotives, whatever forms you have. Also, if you have a syringe with a round opening, you can make the noodle with it and then make the crescent shaped cookies as described above.
I guarantee that the kids will be happy and busy for a while.
I have not said anything about the taste; well they taste great and will be eaten in great amounts, so make sure to make plenty.
My son and his friend can empty a bowl in 15 minutes, so be prepared for refills. Enjoy this recipe for sugar cookies (Vanillegipferl).
Shortbread Cookies Recipe (Vanillegipferl)
For the shortbread dough:
• 210 g butter (7.4 oz)
• 70 g powdered sugar (2.5 oz)
• 300 g flour (2 cups)
• 70 g grounded nuts (hazelnuts, almonds) (2.5 oz)

For the sugar and vanilla powder:
• 10 tablespoons of powdered sugar
• 10 tablespoons of vanilla sugar

Preheat oven to 170°C – 340°F

Prepare the easy cookies:
• Whip the butter with the powdered sugar, add the flour and nuts and knead to smooth dough. I recommend using the hook attachment on most mixers, but you could as well use your hands.
• Make long noodles, cut then into 3 cm (1.5 inch) long pieces.
• Make the tips pointy and bent slightly to make a half moon shape.
• Bake at 170°C (340°F) for 15-17 minutes.
• Mix powder sugar and vanilla sugar and cover the hot cookies with it. I mix the sugar and vanilla in a bowl and carefully turn the cookies in it.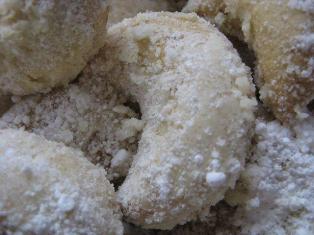 Enjoy this easy shortbread cookies recipe.



Click here to rate this recipe
---
Return from Recipe for Sugar Cookies to Easy Cookies
Return from Shortbread Cookies Recipe to Easy Cake Recipes Homepage