Cranberry Cookies Recipe
The different German cookie recipe
I have this
cranberry cookies recipe
from my good friend Agatha, who likes to try new
Christmas baking recipes
each year. She is always on the lookout for interesting German Christmas cookies recipes.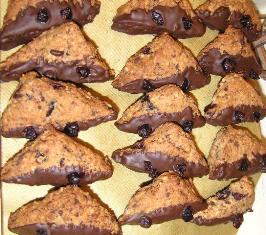 Christmas in Germany
is always celebrated with plenty of cookies. I think, that is why there are so many different German Christmas cookies recipes out there. Each family has their favorite Christmas baking recipes.
I tried these cranberry cookies and immediately fell in love with them. I hope that you will enjoy them as much as I did. Merry Christmas!


Cranberry Cookies Recipe
Ingredients:
• 100 g (3.5 oz) peanuts, chopped
• 100 g (3.5 oz) dried cranberries
• 250 g (8.8 oz) dark chocolate chips, chopped
• 2 medium eggs
• 250 g (1 ¼ cups) sugar
• Pinch of salt
• 200 g (7 oz) grounded almonds
• 50 g (1/3 cup) flour

How to make the cookies:
• Chop 80 g (2.8 oz) of the cranberries.
• Mix with an electric mixer the eggs, sugar and salt until fluffy and airy.
• Add the peanuts, chopped cranberries, and 80 g (2.8 oz) of the chocolate chips, mix well.
• Add the grounded almonds and flour, mix well.
• Cover a cutting board that fits in your fridge with clear foil and transfer the dough onto it.
• Roll the dough out until 1 cm thick (about ½ inch).
• Make the edges of the dough even, since you will need to be able to cut the dough into squares.
• Place the cutting board into the fridge for 4 hours.
• Cut the cooled off dough into 4 x 4 cm (1.5 x 1.5 inch) squares and cut them on the diagonal to create triangles.
• Cover a cookie sheet with parchment paper and let the triangles dry out for 1 hour before baking them
• Preheat the oven to 190°C (375°F).
• Bake the cookies for around 15 minutes. Let them cool completely.
• Melt the rest of the chocolate chips on a water bath: place the chocolate chips into a bowl suspended in a pot with hot water. Place the pot on the stove and heat for as long as it takes to melt the chocolate.
• Dip the longest side of the triangles in the melted chocolate and place on baking paper. Place immediately couple of cranberries on the chocolate to decorate.
• Let the cookies cool completely before storing. These cookies will stay fresh for about 4 weeks if you keep them in a metal tin.




Click here to rate these easy cookies
---
Return from Cranberry Cookies Recipe to Easy Kids Christmas Cookies Recipes
Return from Cranberry Cookies Recipe to Easy Cake Recipes Homepage