Easy Christmas Cookies Recipe with Almonds
Easy German Cookies Recipe
This recipe for easy Christmas cookies is my mother's in law favorite. This almond cookie recipe is very old, since my mom-in-law got it from her mother, who in turn, got it from her mom. If you need easy cookies recipes, then you should give this one a try.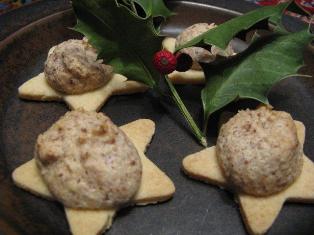 This German cookies recipe is easy to follow, and the end result looks great. These almond cookies are easy to make since there is no tedious decoration involved.
The cookies have a short bread bottom with a small almond meringue on top. It is nice and crispy and it looks great on a plate.
One has to bake it on low heat since the meringue has to dry. I suggest buying ready grounded almonds, but if you ground them yourself, make sure that there are no bigger pieces left.
They will clog the tip of the deco bag and you will have fun taking them out. Hey, one has to learn from own mistakes, so I'm just telling you what not to do. Enjoy my easy Christmas cookies.
Easy Christmas Cookies
For the bottom of the German Cookies:
• 2 egg yolks
• 160 g flour (5.6 oz)
• 65 g sugar (2.3 oz)
• 85 g butter (3 oz)
For the meringue:
• 2 egg whites
• 90 g powdered sugar (3.2 oz)
• 120 g grounded almonds (4.2 oz)
• 1 pinch of cinnamon

Preheat the oven to 140°C – 285°F

Prepare the easy German Christmas cookies:
• Knead the yolks, flour, sugar, and butter to smooth dough. I recommend using the hook attachment on most mixers, but you could use your hands.
• Roll the dough 3 mm thin, cut out small stars.
• Whip the egg white stiff, add sugar, whip until stiff and then add the almonds.
• Using a pastry bag make small heaps on top of the stars.
• Bake at 140°C (285°F) for 25-30 minutes or until golden brown. It takes some time for the meringue to dry, which is why one needs low heat.



Click here to rate these easy cookies
---
Return from Easy Christmas Cookies to Easy Kids Christmas Cookies Recipes.
Return from German Cookies Recipe to Easy Cake Recipes Homepage