Apple Turnover Recipe as Quick and Easy Dessert
Try this delicious puff pastry dessert recipe!
I have this apple turnover recipe from my first cook book that I got as a wedding gift. I have to admit I did not try this puff pastry dessert recipe for a very long time, but when I finally did, I started to make it pretty often.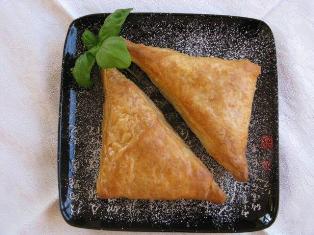 My whole family loved these apple turnovers, and if you are looking for quick and easy desserts, I recommend trying this one. It is definitely one of my favorite puff pastry recipes.
This is a very nice puff pastry dessert recipe for apple lovers. If you don't feel like making short bread dough, this is a super shortcut for a quick and easy apple dessert.
One just needs to cut the apples into small pieces and cook for a while, cut the puff pastry into triangles and fill them with the apple filing.
It really is very easy and not time consuming. Actually it takes maybe 30 minutes to complete the task.
They taste great iced with the lemon-sugar icing, or with vanilla sauce. One tip for the icing: you can use lemon concentrate instead lemon juice to make the icing.
Enjoy this tasty and easy puff pastry desert recipe.
Apple Turnover Recipe
For the apple turnover:
• 1 pack of puff pastry
• 700 g apples (24.6 oz)
• 100 g sugar (3.5 oz)
• 1 teaspoon cinnamon
• 1 egg, slightly whipped

Icing:
• Juice from ½ lemon and powdered sugar

Preheat the oven to the manufacturer's recommend temperature.

Prepare the apple turnovers:
• Peel the apples and cut into small pieces.
• Cook on medium heat with sugar and cinnamon for 10 minutes.
• Roll out the dough until ¼ inch thick and cut into 4 inch (10 cm) squares.
• Place in the middle of each square a spoon of the apple filling, smear with the egg the edges of the dough and fold the square into a triangle.
• Press the sides together.
• Bake until golden brown (around 10 to 15 minutes).
• Ice the turnovers while still warm.

Prepare the icing while the turnovers are baking:
• Whisk the sugar with the lemon juice. The amount of powdered sugar varies on the amount of the juice. One just needs to add the sugar so that the mixture will be thick, but liquid enough to ice the turnover with a brush.

Source: "Najlepsze przepisy kuchni polskiej" by Marek Lebkowski.


Click here to rate this easy cake recipe
---
Return from Apple Turnover Recipe to Puff Pastry Recipes
Return from Apple Turnover Recipe to Easy Cake Recipes Homepage