Homemade Mincemeat Recipe
A cake filling recipe for mince pie
I have this homemade mincemeat recipe from my good friend from Britain. She swore that her Grandma always used it for Christmas and that her whole family liked it. I had to try this cake filling recipe since I wanted to make mince pie. Well, little did I know, mincemeat needs at least two weeks to mature before one can use it. I had to wait all that time to get my mince pie.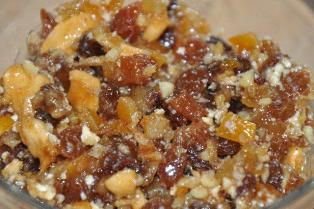 This homemade mincemeat recipe makes about 2.5 kg (5 lbs) of cake filling. I divided the recipe by 10 to try it out. It is easier to do that if you use the metric measurements, rather than pound and ounces. I was not able to buy seedless raisins and currants, since they are not readily available in German stores, but I substituted with dried apples, apricots, and pears. It still tasted great.
Mincemeat was once used as a way to preserve meat without salting or smoking. Now-a-day it is a mixture of fruits preserved in alcohol and sugar. The old recipe calls for suet, which is a hard fat found around kidneys in beef or button, but it can be substituted with butter. For this recipe you will also need to use an apple, which should be firm and hard. A juicy apple may make the mincemeat too moist. I hope that you will like this mincemeat and that you'll use it to make mince pies.
Homemade Mincemeat Recipe
For the mincemeat:
• 450 g (1 lb) currants
• 450 g (1 lb) sultans
• 450 g (1 lb) seedless raisins
• 225 g (8 oz) chopped mixed peel
• 225 g (8 oz) cooking apples, peeled, cored, and grated
• 100 g (4 oz) blanched almonds, chopped
• 450 g (1 lb) dark soft brown sugar
• 175 g (6 oz) shredded suet (can be substituted with butter)
• 5 ml (1 teaspoon) grated nutmeg
• 5 ml (1 teaspoon) ground cinnamon
• Grated rind and juice of 1 lemon
• Grated rind and juice of 1 orange
• 300 ml (1/2 pint) brandy

Prepare the mincemeat:
• Mix thoroughly all ingredients in a bowl.
• Cover and let it stand for 2 days.
• Stir well and place it in jars.
• Let it mature for at least 2 weeks before using it.



Click here to rate this cake filling recipe
---
Return from Mincemeat Recipe to Christmas Baking Recipes
Return from Mincemeat to Easy Cake Recipes Homepage