Peach Cake Recipe
Enjoy this easy fruit cake recipe
This peach cake recipe was originally made with peaches, hence the name. I changed it to plum cake recipe since I used plums. When I was finally able to bake this cake, peaches were no longer in season and I made it with plums.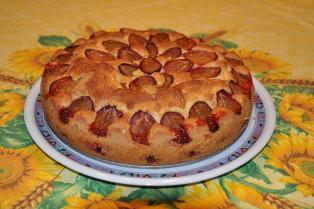 I have to say it is really an easy fruit cake recipe. The cake stays moist for a couple of days, provided that it survives that long.
I have this peach cake recipe from our last vacation in Solec , Poland. This little village has the best sulfur waters in Europe and also a great cook which always bakes great cakes for us.
She baked this peach cake for my husband's birthday since I did not have an access to an oven and an equipped kitchen to bake one for him. Needless to say, he liked this peach cake very much and I had to ask for the recipe.
I did tell her that I will share it with all of my visitors, so here you go. Try this delicious peach cake recipe.
Peach Cake Recipe
For the cake:
• 250 g of butter at room temperature (8.8 oz)
• 6 eggs, divided
• 300 g of sugar (1 ½ cups)
• 300 g of flour (2 cups)
• 2 teaspoons of baking powder
• Around 1 kg of fruits (2 lbs)(plums, peaches, or apricots)

Preheat the oven to 175°C – 350°F
Prepare the cake:
• Clean the fruits, cut them in half, remove the stone. If you are using large peaches, then cut them into smaller pieces, around the size of a half of a plum.
• Beat the egg yolks with sugar.
• Add the soft butter and beat well.
• Add the flour and baking powder, mix well.
• Whip the egg whites and add to the batter; mix them in with a spatula.
• Grease and flour a 28 cm (11 inches) round spring form.
• Spread 1/3 of the batter onto the form.
• Place skin down the plums or other fruits onto the batter, filling in the complete circle of the form.
• Spread the rest of the batter onto the fruits and place the rest of the fruits onto the batter in circular form. Place the fruits next to each other, skin down, not overlapping since the fruits that are in the middle of the cake will also add moisture.
• Sprinkle the top of the cake with powdered sugar or regular sugar.
• Bake at 175°C (350°F) for 60-70 minutes. Make sure to check the cake with a long toothpick before taking the cake out. The toothpick should be clean when the cake is baked.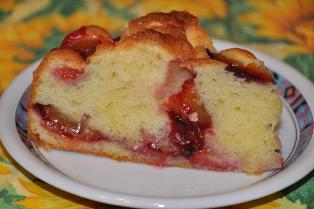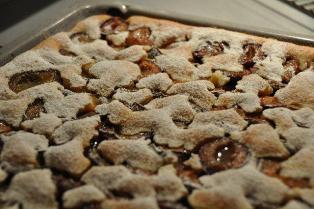 Alternate cake preparation:
• Spread the cake batter onto a rectangular form (around 15 x 13 inches) and place the plums overlapping (like roof tiles) on top.
• Bake for about 30 – 40 minutes at 175°C (350°F).


Click here to rate this easy cake recipe
Here are peach cake recipe comments written by my visitors:

Oct, 4 2010
Rating:Great
Did you enjoy this cake? YES
Were the directions easy to follow? YES
Irena from Canada wrote: The cake is delicious and easy to make. You can do it as well with other fruits. I did it with nectarines and sour cherries. My family liked it very much.
Oct 15, 2010
Rating: Great
Did you enjoy this cake? YES
Were the directions easy to follow? YES
Sarah from Germany wrote: I made the cake with apple pieces. I used Cox Orange apples and the cake was very tasty.
---
Return from Peach Cake Recipe to Fruit Cake Recipe Collection.
Return from Peach Cake to Easy Cake Recipes Homepage