Easter Bunny Cake Recipe With Picture
Easter Cake Recipes Ideas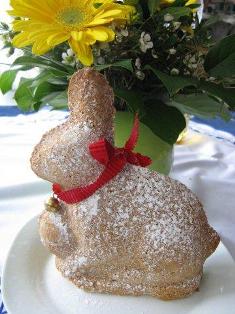 I have this Easter bunny cake recipe from my German aunt. The original recipe was for an Easter lamb cake, but since the kids like bunnies better, it became a bunny recipe. This really is just a variation of a moist yellow cake recipe baked in a bunny shape form.
If you have a lamb form, then you can bake a lamb, but as I said before, a bunny worked better for us. Enjoy my Easter cake recipes.


Easter Bunny Cake Recipe
For the Easter bunny or lamb:
• 100 g soft butter (3.5 oz)
• 80 g sugar (2.8 oz)
• 1 table spoon vanilla sugar or a teaspoon vanilla extract
• 1 pinch of salt
• 1 teaspoon of lemon zest
• 1 large egg
• 1 large egg yolk
• 190 g flour (6.7 oz)
• 1 teaspoon baking powder
• 3-5 tablespoon milk
• 1 tablespoon of shortening to smear the form
• Confectionary sugar to sprinkle the bunny/lamb
• 2 cloves for the eyes
• Special bunny/lamb baking form

Preheat the oven to 180°C (355°F)

How to make an Easter Bunny:
• Beat the butter with sugar, vanilla sugar, salt, and lemon zest until light and fluffy.
• Add the egg and the egg yolk, mix well.
• Mix the flour with the baking powder and add to the batter. Mix well.
• Add the milk, spoon by spoon until the batter slowly falls from a spoon.
• Smear the form with the shortening and flour well. Make sure that all the creases are covered.
• Bake in the middle of the oven for 25-30 minutes at 180°C (355°F).
• Cool the bunny in the form for a while and then take it out from the form and let it cool off completely on a cookie rack.
• Sprinkle with powdered sugar and add the cloves to make the eyes.
• Enjoy.




Click here to rate this cake recipe
---
Return from Easter Bunny Cake Recipe to Easter Desserts
Return from Easter Cake Recipe to Easy Cake Recipes Homepage