Easy Fruit Cake Recipe With Red Currants
Simple cake recipe that can be flourless if you have gluten intolerance
This easy fruit cake recipe is done in no time. Especially if you choose to make the cake flourless, then the preparation time is really short.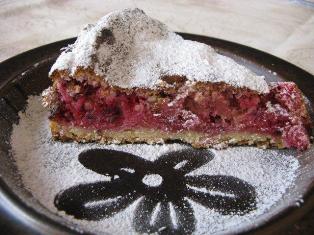 This easy cake recipe comes from my mom-in-law, who had plenty of red currents in her garden. It makes a sweet sour cake that is really light.
There is no flour in the filling, only grounded almonds. So, if you choose to make this cake flourless, you just have to pour the filling into a prepared form. I suggest greasing the form and then instead of flour using oatmeal. It works just fine.
So, do you have red currants in your yard and don't really know what to do with them? Well, red currants have plenty of vitamin C and are great in cakes.
Most people know them in a jelly form, but my easy fruit cake recipe is a great alternative to preserves.
This is one of the few cakes that I know of to be really light and great in taste. You can eat easily two pieces and don't feel sick afterwards.
The sourness from the fruits together with the sweet shortbread bottom makes it a hit in my home and with my coffee guests.
I hope that this simple cake recipe will become part of your Sunday tea time.

Easy Fruit Cake Recipe
Shortbread recipe for the crust:
• 150 g flour (1 cup)
• 100 g butter (3.5 oz)
• 50 g sugar (1/4 cup)
• 1 tablespoon of cream
• Pinch of salt
• Oil to grease the form

For the filling:
• 4 eggs
• 180 g sugar (6.3 oz)
• 125 g grounded almonds (4.4 oz)
• 1 kg red currants (2.2 lb) You can use less if you like. I use around 400 grams currants that are washed and removed from the stems.

Preheat the oven at 180°C – 355°F

Prepare the shortbread crust:
• Knead the flour, butter, sugar, cream and pinch of salt to smooth dough. I recommend using the hook attachment on most mixers, but you could as well use your hands.
• Cover the dough with plastic foil and place it in a fridge for 30 minutes.
• Roll the dough until (.5 cm) ¼" or thinner on a silicone mat, and if you don't have one, use wrapping foil. Flip the dough onto a round 9"(23 cm)spring form; make sure that the sides of the form are also covered.
• Prick the dough with a fork so that the steam can escape.
• Bake it at 180°C (355°F) for 15 minutes or until golden brown.

Prepare the red currant filling:
• Clean the fruits, remove the stems and dry them.
• Beat the egg yolk with sugar and add grounded almonds. The batter will be very thick.
• Whip the egg whites and mix them carefully using a spatula with the egg/almond batter.
• Add the red currants, mix them in with a spatula, and pour the dough onto the baked crust.*
• Bake 35-40 minutes at 190°C – 375°F. The cake will be moist due to the juices from the currants.

*If you choose to make this cake flourless, grease the form, spread oatmeal on all sides and bottom, and pour the filling only. Enjoy this easy fruit cake recipe.


Click here to rate this easy cake recipe
---
Return from Easy Fruit Cake Recipe to Fruit Cake Recipe Collection
Return from Easy Fruit Cake Recipe to Easy Cake Recipes Homepage