Fresh Apple Cake Recipe with Streusel
Try my easy cake recipe for Polish Apple Cake.
My mom gave me this fresh apple cake recipe shortly after I got married. I always liked this Polish apple cake and since I moved out I use this simple fresh apple cake recipe all the time. Now I'm passing the knowledge onto you.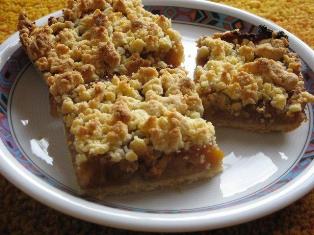 The streusel cake is made of shortbread dough which is crumbly and crispy when baked. I recommend using sour apples like "granny smith" or "orange cox" since the dough itself is sweet and the apples make a nice contrast.
It also looks very pretty with the golden brown streusel on it. My whole family likes this Polish apple cake and my husband actually tells each of us how much we are allowed to eat.
For this fresh apple cake recipe you need candied orange peel, but if you don't like it, then you can leave it out. I add it to this cake since I make mine own orange peel.
Personally, I don't like the one from the store. If you want to, you can substitute with dried cranberries or raisins.
Enjoy my tasty easy cake recipe.
Fresh Apple Cake Recipe (Jablecznik)
Shortbread recipe for the crust and streusel:
• 400 g flour (2 cups and 2/3 cup)
• 200 g butter at room temperature (7 oz)
• 120 g powdered sugar (4.2 oz)
• 2 egg yolks
• Pinch of salt

For the apple filling:
• 150 g sugar (3/4 cup)
• 1 tablespoon of vanilla sugar
• 1 kg apples (2.2 lbs)
• 50 g candied orange peel (1.8 oz)
• 1 teaspoon cinnamon
• 1 tablespoon bread crumbs

Preheat the oven to 180°C – 355°F

Prepare the shortbread dough:
• Knead the flour, butter, powdered sugar, salt, and yolks to smooth dough. I recommend using the hook attachment on most mixers, but you could as well use your hands.
• Divide the dough into 1/3 and 2/3 parts.
• Cover the dough with plastic foil and place it in a fridge for 30 minutes.
• Take the 2/3 part from the fridge and roll out until ¼" on a silicone mat. If you don't have one, use wrapping foil. The silicone mat makes it easier to flip the rolled out cake into the form. You can try folding the dough or rolling it onto the rolling pin, but for me the mat works the best.
• Move the dough onto buttered and flowered rectangular form (around 15 x 13 inches), prick the dough with a fork, and bake 15 minutes in 180°C or until golden brown.

Prepare the filling:
• Peel and core the apples, grate them, and cook with sugar.
• Add cinnamon, vanilla sugar, and chopped candied orange peel. Cook until most liquid is evaporated and the apples are soft.

Prepare the cake:
• Sprinkle the baked bottom with bread crumbs and place the apples on it.
• Make crumbs from the rest of the dough and sprinkle them on top of the apples.
• Bake for 40 minutes at 180°C or until the crumbs turn golden brown.

Cut the cake into square pieces before it cools off. You can enjoy this fresh apple cake recipe with whipped cream, vanilla sauce, or pure.

Click here to rate this recipe
---
Return from Fresh Apple Cake Recipe to Fruit Cake Recipe Collection
Return from Simple Cake Recipe to Easy Cake Recipes Homepage