Plum Cake Recipe
A fruit cake recipe that is perfect for everyday.
This plum cake recipe is my favorite fruit cake, maybe because I like plums so much and when the season starts I freeze around 20 kilos of them. This easy cake recipe takes no time to make and it is really a must try.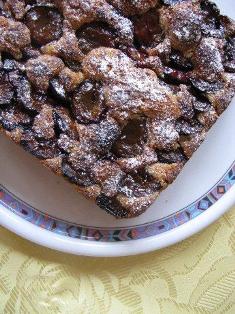 Plums are great in cakes; they add moisture and sourness that harmonizes with the sweetness of most cakes. I use the Damson or the Damask plums but if you don't have access to these fruits, then you could use bananas or peaches.
I hope that you will enjoy my easy cake recipe.

Dark Fruit Cake Recipe
For the fruit cake:
• 300 g flour (2 cups)
• 200 g butter (7 oz)
• 200 g powdered sugar (7 oz)
• 4 eggs
• 10 g baking powder (.35 oz)
• 1 spoon vanilla sugar
• 800 g plums (28.2 oz)
• 2 table spoon of sugar

Preheat the oven at 180°C – 355°F
Prepare the plum cake:
• Wash and stone the plums, cut in half.
• Beat the sugar with the eggs, add melted butter, and mix well.
• Add vanilla sugar, flour, baking powder, and mix into a smooth batter.
• Pour the batter onto a greased and flowered rectangular form. The dough will be very thick so use a spatula or a knife to even it out. It will also be relatively thin when spread out (1 cm), but don't worry it will double its height.
• Place the plums on top, skin down, sprinkle with sugar, and bake 35 minutes at 180°C. Check for doneness with a long metal stick, if the end of the spike has some dough on it, bake for 10 minutes more.
• If you want, you can place the plums in overlapping rows. The cake will taste much better (it will be little more sour and moist), but you might need more fruits.

One can use this easy cake recipe for a fruit cake with bananas, apricots and peaches.

This plum cake recipe comes from "Najlepsze przepisy kuchni polskiej" by Marek Lebkowski.

Return to Wheat Free Recipes
Return from Plum Cake Recipe to Fruit Cake Recipe
Return from Plum Cake Recipe to Easy Cake Recipe Homepage