Best plum cake from my easy cake recipes collection
Perfect plum recipe for those who love fruit cakes
I have this plum cake recipe from my good friend who likes to experiment with new easy cake recipes. The original recipe was for a rhubarb cake, but my friend did not have any and she used plums instead. I also used plums and found this fruit cake recipe to be just great.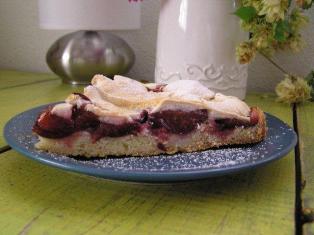 The fruit cake recipe below is a variation of a regular fruit cake. It is relatively moist and little sour like a regular fruit cake, but the kick comes with its sweet crust on top which tastes and looks great.
If you like, you can substitute the plums with cherries or apples, and come up with a new recipe. If you have rhubarb, you can use it as well, you just need to peel it and cut into squares.
The rhubarb would greatly complement the sweetness of the meringue crust, so I dare you to try it.
Enjoy this easy fruit cake recipe.
Easy Plum Cake Recipe
For the bottom batter:
• 125 g butter (4.4 oz)
• 125 g sugar (4.4 oz)
• 1 egg
• 50 g potato flour (1.8 oz)
• 125 g flour (1/2 and 1/3 cup)
• 1 teaspoon baking powder

For the plum filling:
• 500 g plums (1.1 lb)
• 2 egg whites (fresh eggs)
• 125 g sugar (4.4 oz)

Preheat oven to 180°C – 355°F

Prepare the cake batter:
• Beat the butter with sugar.
• Add the egg and mix well.
• Add the potato flour, regular flour, and baking powder. Mix well.
• Grease and flour a 10" form (25 cm).

Prepare the cake:
• Spread the batter onto the round form.
• Cover the batter with the plums.
• Beat stiff the egg whites with the sugar and pour onto the plums.
• Bake at 180°C for 40-45 minutes.


Click here to rate this easy cake recipe
---
Return from Plum Cake to Fruit Cake Recipe collection.
Return from Fruit Cake Recipe to Easy Cake Recipes Homepage