Easy Christmas Kutia Recipe
Polish Christmas Dessert Recipe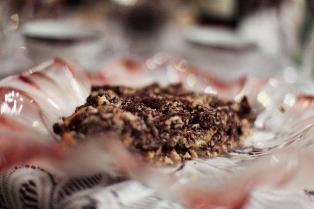 Kutia is one of traditional Polish Christmas recipes. It is originaly not Polish, but comes from Ukraine. My mother comes from the eastern part of Poland and we always had this easy Christmas dessert.
Kutia is a concoction made of poppy seed, wheat grain, honey, and dried fruits. It is sweet and chewy due to the fruits, nuts, and honey.
One can prepare it ahead of time and freeze it, making it an easy Christmas dessert. You don't have to stress about it when there are plenty of other things to prepare.
You just defrost it and have a very delicious and original dessert. I hope that you will enjoy this authentic recipe for kutia. Try some of my Polish Christmas recipes today!
Kutia Recipe
For the easy dessert:
• 200 g (7 oz)of wheat grain without scales
• 200 g (7 oz)poppy seed
• 200 ml (6.8 fl. oz) fluid honey
• 100 g (3.5 oz)chopped almonds
• 100 g (3.5 oz)walnuts or pecans
• 50 g (1.8 oz)raisins
• 5 dates
• Optional: 50 ml (1.7 fl oz)rum

Prepare:
• Place the wheat grain in a strainer and run plenty of water through it to clean it.
• Soak the grain in cold water for 5-6 hours, and then cook on low heat around 3 hours. The grain should be soft, but not overcooked.
• If you like, you can grind the cooked wheat grains, or use it whole.
• Place the poppy seed in a small pot and pour boiling water on top. Cook for 15 minutes, then strain, grind 2-3 times, until smooth.
• Chop the walnuts or pecans; soak the raisins in water or in rum. Chop the dates.
• In a mixing bowl, mix the poppy seed, the wheat grain, honey, nuts, and fruits.
• You can add more dates, raisins or nuts, if you like. You just have to taste it and see what you want to add.
• Store kutia in a fridge, or freeze it.
• You can exchange the fruits, but I just don't recommend using figs.

Recipe in Polish
Przepis na Kutie
• 200 g pszenicy bez łusek
• 200 g maku
• 200 ml płynnego miodu
• 100 g migdałów
• 100 g orzechów włoskich lub pecane
• 50 g rodzynek
• 5 daktyli
• Opcjonalnie około 50 ml rumu

Wykonanie
• Wypłukać pszenicę, namoczyć w zimnej wodzie na 5-6 godzin a następnie gotować na małym ogniu około 3 godziny. Ziarna powinny być miękkie ale nie rozgotowane.
• Ugotowaną pszenicę można zmielić lub użyć bez mielenia.
• Mak sparzyć wrzątkiem i gotować 15 minut , następnie osączyć i zemleć 2-3 razy na gładką masę.
• Migdały sparzyć, obrać ze skórki i drobno pokroić.
• Orzechy i daktyle pokroić, rodzynki namoczyć w wodzie lub rumie.
• Pszenicę połączyć z makiem, dodać miód i bakalie. Dobrze wymieszać.
• Przechowywać w lodówce.
• Ilość bakalii można dobierać według własnego smaku. Nie polecam dodawać fig.



Click here to rate this easy dessert recipe
---
Return from Kutia to Polish Christmas Traditions.
Return to Easy Cake Recipes Homepage