Easy Cake Recipe - Perfect Kids Birthday Cake
Make easy birthday cakes with this simple cake recipe
This easy cake recipe comes from one of my favorite childhood book authors. It can be made in many different forms; I tend to make it in a large rectangular form, with cut plums inside, fresh blueberries, or cherries.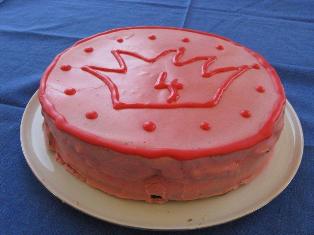 I often make this cake for my kids' birthday parties since it goes well. All small guests enjoy this not complicated cake, especially the easy sour sweet frosting. One can decorate the cake with gummy bear, Smarties (Nestlé's version of M&Ms) , or M&Ms.
There are many kids birthday cake recipes and this one definitely belongs to easy birthday cakes category. I made a princess birthday party for my daughter and of course had to make a pink cake.
I made a frosting by mixing powdered sugar and red currant jelly, and smeared thickly onto the cake. If you don't have red currant jelly you can use lemon juice and food coloring.
I also cut the cake into two layers and smeared red currant jelly in the middle to make the cake a little moist. All princesses liked the cake, my son devoured it.
I hope that you will enjoy this simple cake recipe.

Easy Cake Recipe
For the batter:
• 5 eggs
• 500 g sugar (2 ½ cups)
• 500 g flour (3 1/3 cup)
• 250 g melted butter (8.8 oz)
• ½ bag of baking powder (2 teaspoons)
• 1 cup of sour cream

Preheat the oven to 175°C – 347°F

• Beat eggs with sugar using an electric mixer.
• Add melted butter, flour, baking powder, and sour cream.
• Mix well. Pour onto a floured and buttered form and bake at 175 °C for at least 55 minutes.
• If you use a rectangular form, check after 40 minutes of baking for doneness using a long toothpick.

If you use fruits, you might need to bake the cake longer. Also, if it gets brown on the top and the cake is not done, lower the temperature and extend the baking time in 5-10 minutes intervals.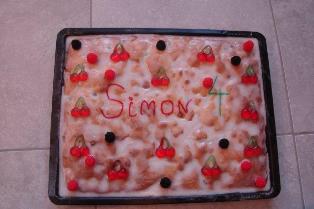 Click here to rate this recipe
Here is an easy cake recipe comment written by my visitors:

Apr 1, 2010
Rating:
Great
Did you enjoy this cake? YES
Were the directions easy to follow? YES
Ellen from Germany wrote: Perfect cake for kids. I made it for my daughter's birthday, and drew a heart with 5 in it. She loved the pink icing. Thanks for the idea with the jelly. I don't like artificial food coloring that is in most icings.
---
Return from Easy Cake Recipe to Best Cake Recipes
Return from Simple Cake Recipe to Easy Cake Recipes Homepage