Delicious croissant recipe with nut filling
Need easy to make desserts? – Try this one out!
This is a very easy croissant recipe stuffed with nuts. If you are looking for quick easy desserts then this stuffed croissant definitely makes the cut. This easy to make dessert really takes no time to make.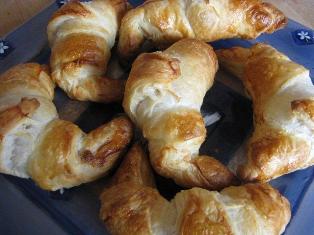 This stuffed croissant is great with kids and adults and one can make it for a party, or a get together with good friends or even for Sunday breakfast.
I like them just as snacks so I make them pretty often. I try to keep a pack of puff pastry in my fridge at all times since it bakes so quickly.
Sometimes, I make a super fast filling with quark and sugar, and then the whole prep time takes about 10 minutes and baking around 15 minutes.
You can also take the stuffed croissant with you on a trip or pack for lunch. The size of the snack depends on you, and you know what purpose is it supposed to serve.
For example you can make mini croissants that guest can eat in one bite. I like them small since my audience is my kids and they like things small. That way they are allowed to eat a couple of them.
I hope that you will enjoy this quick recipe with nut filling.
Croissant Recipe with Nut Filling
For the stuffed croissant: • 1 pack of puff pastry
• 150 g walnuts or hazelnuts (5.3 oz)
• 120 g powdered sugar (4.2 oz)
• 70 ml cream (1/3 cup)
• ½ vanilla bean

Prepare the filling:
• Cut ½ of the vanilla bean in half lengthwise and scrape out the seeds with a knife.
• Grind the nuts and mix well with sugar, vanilla and cream.

Prepare the stuffed croissant:
• Cut the dough onto 4 inches wide stripes.
• Cut the Stripes into triangles.
• In the middle of each triangle place ½ spoon of filling and roll the triangle from the widest part to the top.
• Bake according to the instructions on packaging.

This stuffed croissant recipe comes from "Najlepsze przepisy kuchni polskiej" by Marek Lebkowski



Click here to rate this recipe
---
Return from Croissant Recipe to Puff Pastry Recipes
Return from Stuffed Croissant to Easy Cake Recipes Homepage