White Chocolate Cheesecake Recipe
This recipe for cheese cake will blow you away.
My White Chocolate Cheesecake Recipe is one of the best from my cake recipes collection. There are many chocolate cheese cake recipes and this one tops them all. Pure indulgence, that it is what this cake is.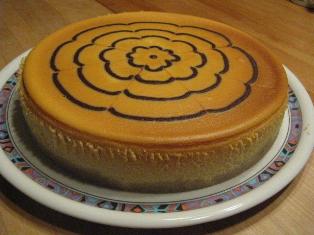 Everybody will be impressed by your decorating skills and will ask questions how you got the flower on top of the cake. The answer is so simple, but the end effect is just great.
The cake itself is very creamy and tasty. I used this chocolate cheesecake recipe for my wedding and it was a hit. Even the hotel staff came at the end and wanted to try it. So, I recommend you to give try this white chocolate cheesecake recipe.
White Chocolate Cheesecake Recipe
Shortbread recipe for the crust:
• 150 g flour (1 cup)
• 100 g butter (3.5 oz)
• 50 g sugar (1/4 cup)
• 1 spoon of cream
• Salt

Filling:
• 1 3/4 lbs. cream cheese, at room temperature
• 2/3 cup sugar
• 4 eggs
• 14 ozs. White Candy Melts
(white chocolate) coarsely chopped
• 1 tsp. vanilla
• 1 1/3 cups whipping cream
Chocolate swirl mixture:
• ¼ cup of the cheese mixture
• 10 wafers of dark cocoa Dark Chocolate Candy Melts
, melted (dark chocolate)

Preheat the oven to 180°C – 355°F
To make the shortbread crust:
• Knead the flour, butter, sugar, cream and pinch of salt to smooth dough. I recommend using the hook attachment on most mixers, but you could use your hands.
• Roll the dough until ¼" or thinner on a Silpat Baking Sheet
, and if you don't have one, use wrapping foil.
• Flip the dough onto a round 11"form. You can cover the sides with dough if you want to.
• Make couple of holes with a fork in the dough so that the steam can escape.
• Bake it at 180°C for 15 minutes or until golden brown.

To make the cheese filling:
• Wrap outside of a 9 inch spring form pan with aluminum foil.
• Butter the inside of the pan.
• Mix the cheese and the sugar using an eclectic mixer to a smooth batter. While mixing, add eggs, one at a time.
• Melt the White Candy Melts according to directions on packaging, or melt the white chocolate on a steam bath. Cool 7-10 minutes. I mix it with an electric mixer from time to time to avoid lump from forming. It is important that candy be cooled but still liquid. If too hot, candy will get lumpy when added to the batter.
• Add cooled candy, vanilla and whipping cream to cheese mixture, blend well. Set aside ¼ cup of the cheese mixture.
• Pour batter into the prepared pan.
• Melt the dark chocolate on a steam bath or dark Candy Melts according to the instructions.
• Mix dark candy with the rest cheese mixture. Spoon into an uncut disposable decorating bag. If mixture thickens, heat in microwave on high at 30 second intervals until in liquid form. Snip end off bag and, starting in center, pipe 4 circles (about 1 inch apart) onto the white batter. Working from the outer edge, run a spatula or a knife straight through the circles to center. Divide into 8ths. This will give you the flower effect that you see on the picture.
• Place the aluminum foil wrapped pan into a large oven proof pan. Pour hot water into the large pan until it reaches ½ inch up the sides of the pan.
• Bake in center of a preheated oven at 300°F for about 1 3/4 to 2 hours.
• To test for doneness, gently shake the pan. The top of the cake should move as one solid piece. There should be no soapy movement in center.
• Remove from oven to cool. Refrigerate for 12 hours.Cake will set completely when refrigerated.

To unmold:
Place pan with cake over a hot burner for about 15-20 seconds to loosen crust from bottom. Run a straight edge spatula around edge of pan or a knife. Release spring and remove ring. Place a cake circle on top of the white chocolate cheesecake and invert. Remove the bottom. If difficult to remove, place over heat briefly. Invert onto serving plate. Refrigerate until ready to serve.
Enjoy my White Chocolate Cheesecake Recipe
This White Chocolate Cheesecake Recipe came from "A Treasury of Wilton Wedding Cakes," Wilton Enterprises

Click here to rate this recipe
---
Return from White Chocolate Cheesecake Recipe to Cheese Cake Recipes
Return from White Chocolate Cheesecake Recipe to Easy Cake Recipes Homepage