Basic Sponge Cake Recipe
Try one of the simple sponge cake recipes ides.
This is a basic sponge cake recipe that you can use to create your own individual masterpiece. I use this sponge cake recipe when I make a cake for my kids since they like them dry. I cover it with lemon icing and gummy bears.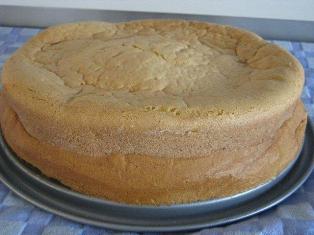 This easy cake recipe can be baked in a bread form. You can then slice the sponge cake and toast it once it dries out a little. It tastes great toasted with butter and jam.
One suggestion from me is to bake this in a round form, cut in two round layers, smear strawberry jelly on one layer, trace a circle on the edge of the same layer with sweet whipped cream, fill the space with cut strawberries, place the second circle on top and ice with sweet whipped cream. Refrigerate. This variation would be great as an easy summer dessert.
The sponge cake will bake better if you don't use a confection oven, meaning use heat coming from top and bottom only. Also, do not open the oven until the baking time is over.
Sponge cake is not very forgiving and it will not turn out right if you keep letting the heat escape. Enjoy my easy sponge cake recipe.

Basic Sponge Cake Recipe
• 200 g flour (1 1/3 cup)
• 8 eggs
• 150 g powdered sugar (5.3 oz)
• Oil and flour for the form

Preheat oven to 180°C – 355°F

Prepare the cake batter:
• Whip the egg yolks with the powdered sugar until they turn light yellow. Quickly mix in the flour.
• Whip stiff the whites. Using a spatula carefully mix the egg whites with the yolk-flour batter and move to a greased and flowered 26 cm (10 inches) form. I divide the whipped egg whites into two parts since mixing is not that easy. I mix first the one part of the egg whites with the sugar batter and when well blended I add the second part.
• The batter should not fill more then 2/3 of the form.
• Place the cake directly into the oven since when the cake sits, the air bubbles from the egg whites collapse making the cake dense instead of fluffy.
• Bake 35 minutes at 180°C - 355°F.

This sponge cake recipe comes from "Najlepsze przepisy kuchni polskiej" by Marek Lebkowski.
Click here to rate this easy cake recipe
---
Return from Basic Sponge Cake Recipe to Simple Sponge Cake Recipes
Return from Sponge Cake Recipe to Easy Cake Recipes Homepage