Easy Chocolate Cake Recipe
Dark Chocolate Cake Recipe
This easy chocolate cake recipe is just great. The dark chocolate cake is so moist and delicious that you will make it not once, but couple of times.
If you combine this cake with my chocolate glaze recipe you will end up with a very rich chocolate cake.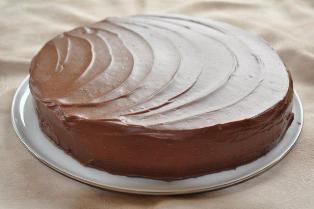 I made this cake once for my husband since he was craving a chocolate cake. He ended up eating most of it, he liked it that much. This best moist chocolate cake recipe just delivers a great cake. I strongly recommend you to try it out.
Easy Chocolate Cake Recipe
For the dark chocolate cake:
• 1/4 cup + 3 tablespoons (42 g) unsweetened cocoa
• 2/3 cup of boiling water
• 4 large eggs
• 1 1/2 tablespoons of vanilla extract
• 1 1/2 cups + 1 tablespoon of flour
• 1 cup of sugar (200 g)
• 2 teaspoons of baking powder
• 1/2 teaspoon of salt ( you can add less)
• 10 tablespoons of butter (142 g)

Preheat the oven to 350°F (170°C)

Prepare the rich chocolate cake:
• Place the cocoa in a bowl and add the boiling water. Whisk until smooth and cool to room temperature.
• In another bowl mix the eggs with 1/4 of the cooled off cocoa mixture together with the vanilla.
• In your mixing bowl combine the flour, sugar, baking powder, and salt.
• Add the butter and the remaining cocoa mixture. Mix on low speed to moisten the dry ingredients, and then increase to high speed and mix for at least 1 1/2 minutes.
• Slowly add the egg mixture in three parts, scraping the bowl after each addition.
• Grease and flour a 9 inch spring pan and pour the cake batter into it.
• Bake at 350°F (170°C) for 30 to 40 minutes, or until the tester comes out clean.
• Cool the cake on a cake rack.
• You can sprinkle the cake with powdered sugar or cover it with chocolate glaze.
• Enjoy this rich chocolate cake recipe.


Click here to rate this easy cake recipe
---
Return from Easy Chocolate Cake Recipe to Recipes for Chocolate cake
Return from Easy Chocolate Cake Recipe to Easy Cake Recipes Homepage