Recipe for Brownies
Don't know how to make brownies?
Check this chocolate brownie recipe
This recipe for brownies is super easy to make and really delivers wonderful chocolate brownies. What I like about brownies is that if you want to, you can make it all in one bowl.
My friend didn't know how to make brownies, but after trying this recipe she became a fan of these little chocolaty squares. You can make homemade chocolate brownies as fast as the ones from a brownie mix.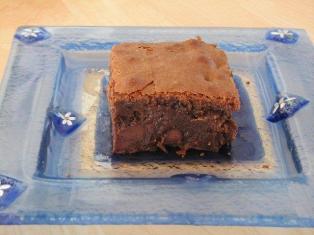 If you like, you can mix all the ingredients in one bowl, using only a whisk. I like to beat in the eggs with a hand held mixer, but the rest I do with a whisk. I use to do everything in my table top mixer, but after once mixing everything in one bowl, I saw how easy it is.
This recipe for chocolate brownies makes 9 larger brownies or 16 small ones. You need to use an 8" square pan (20 cm). If you like to bake more, just double the recipe, but remember to double the pan size.
I hope that you will enjoy this recipe for brownies.
Recipe for Brownies
For the chocolate brownies
• 2 tablespoons of cocoa powder (15 g)
• 5 oz. (140 g) of bittersweet chocolate
• 3 large eggs
• 1/2 cup (113 g) of butter
• 1 cup (200 g) of sugar
• 1 teaspoon of vanilla extract
• 3/4 cup of flour (100 g)
• 1/4 teaspoon of salt (I add much less)
• 3/4 cup of semi sweet chocolate chips (125 g)

Preheat the oven to 350°F (175°C)

How to make brownies
• Place the chocolate and butter in a bowl suspended over simmering water.
• Stir the chocolate and butter until melted.
• Remove from heat and whisk in the cocoa powder, sugar, and vanilla extract.
• Using an electric mixer, beat in the eggs.
• Whisk in the flour, salt, and the chocolate chips.
• Pour into a buttered and floured 8" square pan (20 cm).
• Bake at 350°F (175°C) for about 30 minutes, or until a cake tester comes out with only a few crumbs on it. Do not over-bake the brownies, since then they will not taste as good.



Click here to rate this recipe for chocolate brownies
---
Return from Recipe for Brownies to Recipes For Chocolate Cake Collection.
Return from Chocolate Brownie Recipe to Easy Cake Recipes Homepage