Easy Brownie Recipe With Picture
Try my recipe for best chocolate brownies from scratch
This easy brownie recipe is just great. All you need to do is add the ingredients one after one into a mixing bowl.
When making brownies from scratch, you always need to melt the chocolate with butter in a bowl suspended over simmering water. You can simplify this, by placing the chocolate and butter into a microwave and melt it on high heat for 15 seconds. Use a whisk and stir it well afterwards.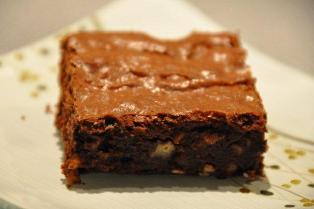 I really enjoy this particular chocolate brownie recipe since it has some nuts which add some crunchiness.
This best chocolate brownie recipe also suggests to pipe the brownies into individual molds, making the brownies crispy from all sides. You can do that if you have such molds, otherwise, just use an 8 inch square pan.
Making brownies from scratch is such a rewarding experience since once they bake; the whole house smells like chocolate. Like really good chocolate. I can sincerely recommend this easy brownie recipe to you and hope that you will have fun making your brownies from scratch.
Easy Brownie Recipe
For the easy brownies:
• 75 g (2.6 oz) chopped pecans
• 132 g (4.6 oz) butter
• 33 g (1.2 oz) unsweetened cocoa
• 56 g (2 oz) bittersweet chocolate
• 2 large eggs
• 50 g (1/3 cup) flour
• 160 g (5.5 oz) sugar
• 1 ½ teaspoons pure vanilla extract
• 56 g (2 oz) cream cheese, cut in pieces

Preheat the oven to 325°F (165°C)

How to make brownies:
• Toast the pecans by placing them in a non stick frying pan and on medium heat, toast them until slightly brown. Cool completely.
• Place the chocolate and butter in a bowl suspended over simmering water.
• Stir the chocolate and butter until melted.
• Remove from heat and whisk in the cocoa powder, sugar, and vanilla extract.
• Using an electric mixer beat in the eggs.
• Beat in the cream cheese until only small bits remain.
• Whisk in the flour and salt.
• Stir in the nuts.
• Pour into a buttered and floured 8" square pan (20 cm).
• Bake at 325°F (165°C) for about 30 minutes, or until a cake tester comes out with some crumbs on it. Do not over-bake the brownies, since then they will not taste as good.
• One variation of these brownies is to bake them in silicone madeleines molds, or any other small molds. I like to pipe the batter directly into the molds.


Click here to rate this best brownie recipe
---
Return from Easy Brownie Recipe to Recipes For Chocolate Cake Collection.
Return from Easy Brownie Recipe to Easy Cake Recipes Homepage