Best Moist Chocolate Cake Recipe
Easy chocolate cake recipe with apples and rum.
I have this Best Moist Chocolate Cake recipe from my German mother-in-law who is a big baker. She baked every day since she had 3 big men eating at home.
This best chocolate cake recipe is easy to bake since it is a mix-all-in-one-bowl cake. No separating of the eggs, just mix and pour into baking pans.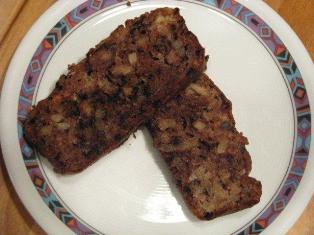 Chocolate and apples and rum - that is a recipe for a tasty and yummy cake. The apples give moisture to the cake and the rum the aroma.
Don't worry though; the alcohol evaporates during baking, so it is kids safe. This cake is even better on the next day. Depending on the form you use you'll get one or two cakes.
For this easy chocolate cake recipe you need to cut 4 apples into small pieces. If you want the apples to be cut evenly and in small pieces, I recommend using a gadget called the "Alligator."
This little device will make your everyday kitchen work much easier, when you need to chop onions, apples, pepper, and anything else. You can find in on amazon.com under the name of "Alligator 533300 Stainless Steel Alligator The Onion Cutter
." I hope that you will find this tip helpful.
Enjoy my easy chocolate cake recipe.


Best Moist Chocolate Cake Recipe
• 4 big apples
• 6 table spoons rum
• 100 g grounded nuts (3.5 oz)(hazelnuts, pecans, walnuts, almonds)
• 100 g shredded chocolate (3.5 oz)
• 1 teaspoon cinnamon
• 200 g butter (7 oz)
• 200 g sugar (1 cup)
• 4 eggs
• 1 table spoon vanilla sugar
• 200 g flour (1 1/3 cup)
• 2 1/2 teaspoon baking powder (3/4 of an European baking powder bag ex. dr. Oetker)

Preheat the oven at 200°C – 390°F

• Peel the apples, cut in cubes, mix with rum, and add nuts, cinnamon, and chocolate.
• Beat eggs with sugar; add butter, flour, vanilla sugar and baking powder.
• Add the apples-nuts-chocolate mixture to the dough and mix it with a spatula.
• Pour into buttered and floured bread form. The form can be filled almost to the top, since the apples loose volume while baking.
• Bake at 200°C (390°F) for 50-90 minutes. The length of the baking depends on the apple type.

This best moist chocolate cake recipe comes from my mom-in-laws's recipe collection.

Click here to rate this recipe
Here are best moist chocolate cake recipe comments written by my visitors:

Mar 11, 2010
Rating:
Great
Did you enjoy this cake? YES
Were the directions easy to follow? YES
Elizabeth from Poland wrote: I have done this cake for my daughter`s birthday. Everyone said that it was delicious. I will for sure repeat it for other occasions
May 6, 2010
Rating:
Great
Did you enjoy this cake? YES
Were the directions easy to follow? YES
Sofia from USA wrote: I have done this delicious cake twice, and doing this for the second time I took one more apple and add some almonds. It was so good that my guests asked me for the recipe. I sent them to this webpage so I think you will have more visitors.
---
Return from Best Moist Chocolate Cake Recipe to Best Cake Recipes
Return from Best Chocolate Cake Recipe to Easy Cake Recipes Homepage