Chocolate Ganache
Best Brownie Recipe

You might stop eating chocolate any other way...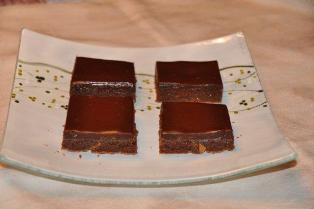 This best brownie recipe really is the finest.  This recipe for brownies is easy to make and even my good friend from NJ, who has no clue how to make brownies, said that they were easy to make. 

I used this chocolate brownie recipe, when I needed to bake something for my English students.  They loved it and immediately asked for the best brownie recipe. 
I gave it to them, but in English, giving them homework of translating it before baking them. 
Since they knew the reward that was waiting for them, they all did their homework and had wonderful chocolate brownies as dessert. 
If you are looking for a new recipe for brownies, then you have to give this one a try.
This best brownie recipe calls for a lot of chocolate.  I really can't stress enough to use chocolate that you like eating on its own.  I used Milka chocolate that has 45% of cacao and the chocolate brownies were just to die for.  Use the chocolate you like most, but don't buy the cheap stuff that you would not eat alone, you will taste it in the brownies and then they won't be that good as I promised you here.  I hope that you will enjoy this best brownie recipe.
Ingredients:
1/2 cup of butter (113 g)
4 oz. of bittersweet chocolate (120 g), chopped
1 cup of sugar (200 g)
1 teaspoon of vanilla extract
3/4 cups of flour (95 g)
2 large eggs
1/4 teaspoon of salt (you can use less)
Ingredients for the chocolate ganache:
3 oz. (90 g) bittersweet chocolate, chopped
1 tablespoon of butter (14 g)
1/3 cup of heavy cream (80 ml)
Preheat the oven to 325°F (165°C)
Directions:
Melt the chocolate.  You can do it either by using a steam bath or by melting the chocolate in the microwave.  Below both methord are described.
Place the chocolate and butter in a stainless steel bowl suspended over boiling water, making sure that the bowl is not touching the water

Melt the chocolate with the butter over the steam bath.  Try to make sure that no water gets into the chocolate.  Best is to melt some of the chocolate and then take it off the heat, cover it, and melt the remaining chocolate using the residual heat of the bowl and the chocolate itself.

You can also place the chocolate and butter (in a plastic bowl) in the microwave set on high power and turn it on for 15 seconds.  Stir the mixture and turn on the microwave again. Melt until desired consistency.  I like to use the residual heat to melt the remaining chocolate.  I use 800 watts setting and let the microwave run for 1 minute.  Afterwards I stir the mixture until it turns smooth. 
In your mixing bowl, mix the sugar with the vanilla.
Add the melted chocolate and the eggs, one at a time.
Add the flour and salt, mix until blended.
Butter and flour an 8 inch (20 cm) square baking dish.
Pour the chocolate batter into the prepared pan.
Bake at 325°F (165°C) for 25 minutes.  If you are using a glass baking dish, you might need to bake it for 10 minutes longer.
Cool off the cake before covering it with the chocolate ganache.
How to make the chocolate ganache:
Place the chocolate in a stainless bowl.
Bring the cream and butter to boil. 
Pour the cream over the chocolate and mix with a spoon until all the chocolate has melted.
Cool to room temperature and pour on top of the brownies. 
Cut the brownies into 9 pieces. 
Store in a fridge, but you can also freeze them. 
I have to confess that my brownies, after baking, were not perfect.  They were not completely leveled after they cooled off.  What you could do, when that happens to you, you could just flip them, and use the bottom as the top.  I did that and my chocolate brownies were just great.  They looked good and tasted even better.  It is important that the brownie cake should be leveled, since if it is not, the glaze will collect in one spot and not spread evenly.  So, if your chocolate brownies don't come perfect out of the oven, just flip them and you will end up with a perfectly flat surface to work with.  Once again, enjoy my best brownie recipe!
This recipe comes from "The Great Book of Chocolate" by David Lebovitz.
---
Click here to rate this easy brownie recipe

Return from best brownie recipe to brownie recipes collection.

Return from chocolate ganache brownie recipe to easy cake recipes homepage.

---