Best Brownies From Scratch Recipe
Fudgy Brownie Recipe
Are you looking for brownies from scratch? Do you need a best brownie recipe that is also fudgy and taste wonderful? Do you need to know now to make brownies step by step? You found the right page.
This best brownie recipe is easy to follow and if you use good quality chocolate you will be making these brownies over and over again.
In this fudgy brownie recipe the quality of chocolate plays a big role. You have to be prepared to spend a few more dollars on the three different chocolates needed.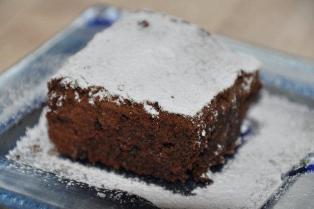 I can recommend Lindt chocolate since they have all different types of dark chocolate. Another brand that has good chocolates is Valrhona, Michel Cluizel, or Ritter Sport.
All these chocolates will deliver just the most fudgy, chocolaty, delicious brownies. I really hope that you will follow my advice on investing into the right kind of chocolate and that you will truly enjoy these brownies from scratch.
Best Brownies From Scratch Recipe
For the best fudgy brownies:
• 5 oz. (141 g) unsweetened chocolate
• 3 oz. (85 g) bittersweet chocolate
• 3 oz. (85 g) bittersweet chocolate, chopped
• ¼ cup and 1 tablespoon (35 g) cocoa powder
• ½ lb butter (226 g)
• 5 large eggs
• 2 cups of sugar (400 g)
• ¼ teaspoon baking powder
• 1/8 teaspoon salt
• 1 cup flour (150 g)
• 1/3 cup of cake flour
• 2 teaspoons vanilla extract

How to make brownies
• Place the unsweetened, 3 oz. of bittersweet chocolate, and butter in a bowl suspended over simmering water.
• Stir the chocolate and butter until melted and remove from heat.
• Whisk the cocoa powder with flour, baking powder, and salt.
• Mix the chopped chocolate with one teaspoon of the flour-cocoa mixture.
• Using an electric mixer beat the eggs.
• Mix in the sugar and vanilla to the eggs.
• Add the melted chocolate to the eggs and mix until smooth.
• Whisk in the flour and in the end the chopped chocolate covered with the cocoa-flour mixture.
• Pour into a buttered and floured 16 x 8 inch pan (40 x 20 cm).
• Bake at 350°F (175°C) for about 30 minutes, or until a cake tester comes out with only a few crumbs on it. Do not over-bake the brownies, since then they will not taste as good.



Click here to rate this easy brownie recipe
---
Return from Brownies From Scratch to Recipes For Chocolate Cake Collection.
Return from Best Brownie Recipe to Easy Cake Recipes Homepage