Easy rich chocolate cake recipe that will leave you wanting more and more…
Try this recipe for chocolate cake and you will find your favorite cake!
This rich chocolate cake recipe comes from the "Cake Bible," where the author promises a divine cake. Well she is right on the point, the cake is great.
This easy chocolate cake recipe is pretty straightforward in making and you can make it next to making dinner.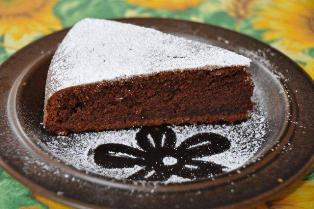 This chocolate cake is best enjoyed warm, so it will be ready by the time you are done eating dinner. Best of all, it does not need any frosting so all you have to do is sprinkle it with powdered sugar.
There are many recipes for chocolate cakes, some are better than others. This easy rich chocolate cake recipe belongs to the better ones.
The cake is fluffy, not overwhelmingly sweet; the high butter content makes it rich, diminishing the need for buttercream or chocolate ganache.
I can truly recommend this delicious cake to you and hope that you will enjoy this easy chocolate cake recipe.
Rich Chocolate Cake Recipe
For the cake:
• 1/4 cup + 3 tablespoons of unsweetened cocoa (42 grams)
• 2/3 cup of sour cream (160 grams)
• 2 large eggs at room temperature
• 1 ½ teaspoon vanilla extract
• 1 ½ cup + 1 tablespoon of flour (230 g)
• 1 cup of sugar (200 g)
• ¾ teaspoon baking powder (4 grams)
• ¼ teaspoon of baking soda (1.5 grams)
• ½ teaspoon salt (you can leave it out if you like)
• 14 tablespoons of butter (200 grams) at room temperature
• Powdered sugar to sprinkle

Preheat the oven to 350°F – 175°C

Prepare the cake:
• Whisk together the cocoa, eggs, sour cream, and vanilla extract to a smooth mixture.
• In your mixing bowl, combine flour, sugar, baking powder and soda, mix on low to blend.
• Add the butter and half of the cocoa mixture.
• Mix on low speed to moisten all the dry ingredients, and then mix on medium for 2 minutes.
• Scrape the sides of the mixing bowl with a rubber spatula and add the remaining cocoa mixture. Mix well.
• Grease and flour a 9 inch x 2 inch (23 x 5 cm) spring form.
• Pour the cake batter into the prepared form.
• Bake for 30 to 40 minutes at 350°F (175°C), or until a tester inserted near the center of the cake comes out clean.
• Cool the cake on a cake rack.
• Sprinkle with powdered sugar.
• Store outside, since of you keep it in the fridge, the cake will harden.
• I recommend storing it in an airtight cake box (from Tupperware
).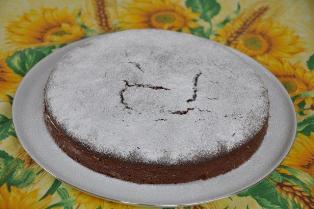 Click here to rate this easy cake recipe
---
Return from Rich Chocolate Cake Recipe to Recipes For Chocolate Cake
Return from Rich Chocolate Cake Recipe to Easy Cake Recipes Homepage