Best Chocolate Cake Recipe
Recipe for chocolate cake that you definitely have to try
This best chocolate cake recipe really is the best. My whole family loves and I really mean the whole family (nephews and nieces included).
The combination of sour cherries, chocolate, almonds, oatmeal, and rum is one of a kind. Also, this easy chocolate cake recipe always comes out right, so you should give it a try.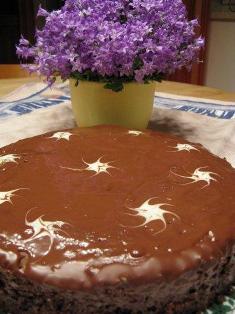 If you have access in the summer months to fresh sour cherries then they are the best, but if you don't, you can use frozen ones. I use cherries that come in a jar since it is simpler. Stoning the fruits just adds work, and I'm all about making it easier. I suggest using good quality chocolate, one you would like to eat on its own, but you could also use lower quality one. You will taste the difference though.
My mother used once chocolate that I don't particularly like and I was not so crazy about the cake in the end.
I grind the almonds and chocolate myself since I have an attachment to my table top mixer. That makes the work much shorter. If you don't have an attachment to your mixer, I suggest using a small electric food grinder and mill the chocolate with almonds.
If you try to grind the chocolate separately, it will just clog. Mix some almonds and chocolate together and that should do the trick.
Another way of getting the chocolate into the cake is melting it in a microwave or using a double boiler. My mom once broke her attachment to grind chocolate. Being a stubborn woman, she didn't give up, she cut the almonds with a knife (I admire such determination),and melted the chocolate in a microwave.
She said the cake came out great and everybody liked it. So, if you don't have the means to grind chocolate yourself, buy grounded almonds and just melt the chocolate.
Enjoy my easy chocolate cake recipe.

Best Chocolate Cake Recipe
• 100 g grounded bitter or bitter sweet chocolate (3.5 oz)
• 125 g grounded almonds (4.4 oz)
• 200 g butter (7 oz)
• 180 g sugar (6.3 oz)
• 4 eggs
• 3 table spoons of rum
• ¼ teaspoon cinnamon
• 100 g oatmeal (3.5 oz)
• 2 teaspoon baking powder (1/2 of an European baking powder bag ex. dr. oetker)
• 1 glass of sour cherries (around 500 g 1.1 lb of cherries)
• 3 table spoons of flour
Optional :
• 150 g dark chocolate, melted
• 50 g white chocolate, melted

Preheat the oven at 170°C – 340°F

• Strain the cherries.
• Whip the egg yolk with sugar, add butter and mix well.
• Add rum, cinnamon, chocolate, almonds, baking powder, and oatmeal.
• Beat the whites and add to the chocolate dough; mix with a spatula.
• In a separate bowl, mix cherries and flour and then add to the dough. The flour prevents the cherries from sinking completely to the bottom.
• Butter a round form and sprinkle oatmeal onto it (instead of flour). Pour the dough into it and bake at 170°C (340°F) for 60 minutes.
• Cool off the cake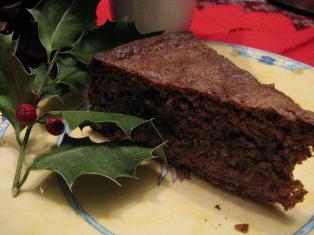 If you want to add a pure chocolate frosting, then melt separately the 50 grams of white and 150 grams of dark chocolate in a steam bath.
Put the chocolate in one small pot and place that on top of a larger pot half filled with hot water.
On low heat keep the water hot but not boiling. Stir the chocolate so it melts evenly. You can add some solid coconut fat to it, to make it flow better and shine.
Pour the dark chocolate onto the top of the baked cake only. Make a small dot with white chocolate and dip a toothpick in the middle of the dot.
Draw a small curved line with one swift motion from the middle of the dot to the outside. Repeat the process as many times you want.
Cover the sides of the cake with dark chocolate. Place the cake in the refrigerator to harden the chocolate.
Enjoy my best chocolate cake recipe.
This best chocolate cake recipe comes from my mom-in-law's baking collection.

Click here to rate this recipe
Here are best chocolate cake recipe comments written by my visitors:

Feb 7, 2010
Rating:
Great

Iwona from Poland wrote: This was dubbed as the "best cake ever". But I did change the ground almonds for chopped mixed nuts. It gave the cake a nice crunch. Will definitely do it again!
Feb 7, 2010
Rating:
Great

Irena from Poland wrote: Hi, I made this cake and my family, together with my grandchildren, found that the cake was simply delicious. What is as well very important - it is not difficult and laborious to do it. I will for sure do it again and I recommend to everybody who likes cakes with cherries: TRY IT!
---
Return from Best Chocolate Cake Recipe to Best Cake Recipes
Return to Easy Cake Recipes Homepage