Sugar Cookies Recipe – "Terassen Plaetzchen"
Try these easy kids Christmas cookies recipes
From this sugar cookies recipe one can make plenty of different shape cookies, with all possible decoration. I love to make them as little pyramids with powder sugar snow. They look great and taste even better.
Best of all you can make them with your kids. There are some easy kids Christmas cookies recipes and these sugar cookies are definitely one of them.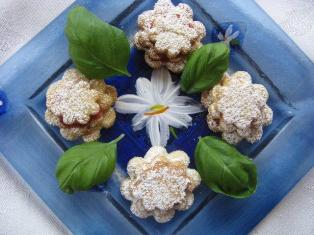 This shortbread cookies recipe comes from my mom-in-law. She has plenty of German Christmas cookies recipes and this one is one of her favorites.
It is fun and easy to make these small creations since all one needs to do is glue the cut out cookies with the jam. At the end, sprinkle them with powder sugar and serve.
If you make these sugar cookies, try to get small forms. My bottom form has about 1.5 inch in diameter; the other ones are proportionally smaller.
If you choose to make them small, you will be able to fit more on a plate and they will look really good. I hope that you will enjoy this simple recipe for sugar cookies.
Sugar Cookies Recipe
Shortbread cookies recipe:
• 500g flour (3 1/3 cup)
• 250 g butter (8.8 oz)
• 250 g sugar (1 ¼ cup)
• 2 eggs
• Powder sugar

You also need:
• 3 cookie cutters – same shape but varying sizes
• 10 tablespoons of red currant jam or cranberry jelly

Preheat oven to 170°C – 340°F

Prepare the sugar cookies:
• Knead the flour, butter, sugar, and eggs to smooth dough. I recommend using the hook attachment on most mixers, but you could as well use your hands.
• Roll the dough until 1/8" thick and cut out the cookies. Try to make the same amount of cookies of each size.
• Place them on a baking paper, but bake each size separately since baking time might vary.
• Bake at 170°C for about 7-10 minutes, or until golden brown.
• Cool them off and "glue" the bottom, middle, and top by spooning a little of red currant jelly onto the bottom and middle layer.
• Sprinkle powder sugar on top.
• You can use a different jelly, but try to find one that is a little sour.

Optional:
• You can cut out different cookie shapes from the shortbread dough and ice them with lemon juice-powder sugar icing.*
• Let your kids do the decoration. Give them a small brush and they will have plenty of fun "painting" the cookies.
• You can make white and green icing. Have them paint the cookie with white color icing, make a green dot in the middle, and draw a star with a toothpick.
• Place the toothpick in the middle of the green dot and draw a line to the outside dragging some of the green icing. Repeat the process to get a star shape.

*To make the icing, whip powdered sugar with some lemon juice. Make sure to add the juice slowly since if you add too much liquid you will end up having to add much more sugar. If you apply the icing to warm cookies it will thin out and dry quickly. If you wait for the cookies to cool off completely, then the icing cover will be thick and will take more time to dry.
These shortbread cookies can be stored for up to 2 months in a metal container. With time they will lose their crispiness so I don't recommend storing them that long.
I find them the best in the beginning since then they are very crispy. I hope that you will enjoy this sugar cookies recipe.

Click here to rate this homemade cake recipe
---
Return from Sugar Cookies Recipe to Easy Cookies
Return from Sugar Cookies Recipe to Easy Cake Recipes Homepage