Plum Tart Recipe with Picture
Try this tasty fruit tart recipe – It is easy and delicious!
My plum tart recipe is very simple to make. It is one of my best fruit tart recipes and I really recommend you to give it a try.
What I love about tart recipes is that they don't last long. When I bake a cake with frosting, it takes a while before it is gone, but if I use a fresh fruit tart recipe, then the cake is gone in max two days.
The plum tart recipe below requires baking twice, but it is worth it. I also have a plum cake recipe where only the short crust bottom is baked and then covered with plums cooked for a long time in a frying pan.
It makes a great looking cake and best of all it tastes great. It is one of the easier tarts to make since all you need to do is arrange the plums on the sweet short crust pastry.
You can use fresh plums, but I also used frozen ones to bake this one and it also comes out great. Make sure to defrost the plums before and strain the juice.
Enjoy my easy fruit tart recipe.
Plum Tart Recipe

Shortbread recipe for the crust:
• 150 g flour (1 cup)
• 100 g butter (3.5 oz)
• 50 g sugar (1.8 oz)
• 1 table spoon of cream
• Pinch of salt
• Butter to grease the form

For the filling:
• 500 g plums (1.1 lb)
• 3 table spoons powdered sugar
• 2 spoons plum butter or plum marmalade (powidla)

Preheat the oven at 180°C – 355°F

Prepare the shortbread crust:
• Knead the flour, butter, sugar, cream and pinch of salt to smooth dough. I recommend using the hook attachment on most mixers, but you could as well use your hands.
• Cover the dough with plastic foil and place it in a fridge for 30 minutes.
• Roll the dough until ¼" or thinner on a silicone baking mat, and if you don't have one, use wrapping foil.
• Flip the dough onto a round 9"form; make sure that the sides of the form are also covered.
• Prick the dough with a fork so that the steam can escape.
• Bake it at 180°C for 15 minutes or until golden brown.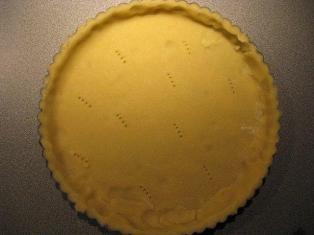 Prepare the plum filling:
• Wash the plums, stone them.
• Spread the plum butter onto the baked bottom and place the plums skin down starting at the edge and work your way toward the center.
• Sprinkle 1 spoon of powdered sugar over the plums.
• Bake for 20 minutes at 200°C (390°F).
• Sprinkle the rest of powdered sugar onto the baked cake.

This tart recipe comes from a collection of tart recipes found in "Najlepsze przepisy kuchni polskiej" by Marek Lebkowski.

Click here to rate this easy recipe

Here are apple cake recipe comments written by my visitors:

Jul 1, 2010
Rating: Great
Did you enjoy this cake? YES
Were the directions easy to follow? YES
Irena from Poland wrote: This Plum Tart is very good but a little difficult to cut. I cut the plums into small pieces and then it was much easier to cut the cake.
---
Return from Plum Tart Recipe to Tart Recipes
Return from Plum Tart Recipe to Easy Cake Recipes Homepage