Fruit Tart Recipe with Picture
Try my plum cake recipe next time you want to bake something new.
This is a very easy and fast fruit tart recipe since it does not require second baking, there is no time needed to arrange the fruits in a presentable matter, and best of all it tastes great.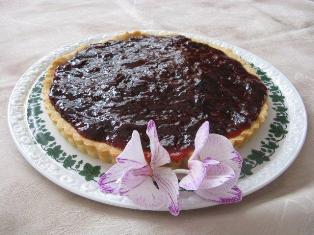 It is the simplest tart from my tart recipes collection since all you need to do is bake the shortbread crust and cover it with the plum mixture for which you can use fresh or frozen fruits.
This plum cake recipe is based on my favorite shortbread recipe without eggs. It is simply one of the great easy summer desserts and a must try.
As I said in my fruit cake recipes section, the plums I use are called in Latin prunus domestica, subsp domestica, in German Zwetschge. They are sweet sour, have a deep blue-purple color, and oval shape. If you don't have access to this type of plums, try the Damson or Damask Plums.
I freeze usually plenty of plums and make this cake form frozen fruits since it does not matter how they look. If you don't have the room in your freezer, you can always buy frozen plums and make a great tasting plum tart.
If you like, you can serve this tart with sweetened whipped cream. The cream complements the slight sourness of the cake and makes a nice deco on a serving plate.
My neighbor told me that this is a great summer cake since it is not too sweet. I like to make it at any time of the year and we enjoy this plum tart recipe pretty often.
Fruit Tart Recipe
Shortbread recipe for the crust:
• 150 g flour (1 cup)
• 100 g butter (3.5 oz)
• 50 g sugar (1.8 oz)
• 1 table spoon of cream
• Pinch of salt
• Butter to grease the form
For the filling:
• 150 g sugar (3/4 cup)
• 1 kg plums (2.2 lb)

Preheat the oven at 180°C – 355°F

Bake one tart crust according to the instructions on the shortbread page. You will find them at the bottom of the page. I strongly recommend using a 9" tart form with a removable bottom.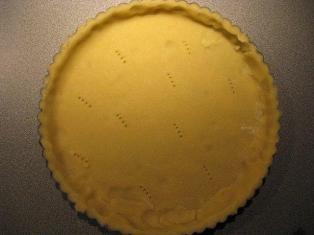 Prepare the plum filling:
• Wash the plums, stone them.
• Heat up a large dry frying pan on medium high heat.
• Place the sugar into the frying pan and cook it until slightly brown. At the begging nothing will happen, but don't go away, the sugar will start melting shortly and then it goes quick from golden brown to burn brown (it happened to me twice and let me tell you, that smells).
• Add the plums and cook until the mixture thickens. This might take up to 20 minutes.
• Pour the plum batter onto the baked dough, serve chilled with whipped cream.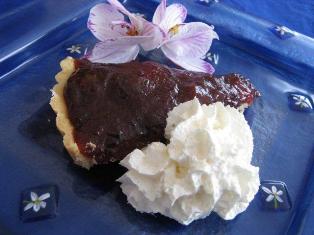 This fruit tart recipe comes from a collection of tart recipes found in "Najlepsze przepisy kuchni polskiej" by Marek Lebkowski.

Click here to rate this homemade cake recipe
---
Return to Wheat Free Recipes

Return from Fruit Tart Recipe to Tart Recipes
Return from Fruit Tart Recipe to Easy Cake Recipes Homepage