German Apple Strudel with traditional strudel dough
Try this easy cake recipe
This German apple strudel is made with the traditional strudel dough. Most apple strudel recipes use a variation of this dough. It is a mixture of flour, oil, and water, no sugar. In contrast to yeast strudel dough , this one is very thin and crispy.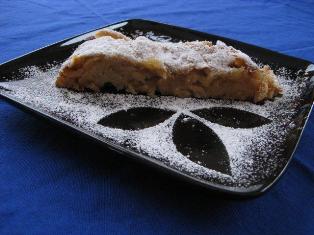 If you are planning on serving this German apple strudel next day, leave it on parchment paper and cover loosely with a clean kitchen towel. You can simplify this cake dramatically if you buy ready-made dough. Reheat it in the oven, not in the microwave since it makes it gooey.
The recipe for the traditional German Apple Strudel requires some practice. I recommend trying it once before you decide to serve it to your guests.
The key to making a successful German strudel is the stretching of the dough. It should be very thin, yet it should not break, since then the steam will evaporate and it will not be moist.
There are many apple strudel recipes out there. I got this one from a German friend of mine whose husband made this cake. He got it from his grandma. What I like about this cake is that you can add to the apples whatever you like. Nuts, dried cranberries, raisins - anything goes.
For this cake you need to chop apples into small pieces. I recommend using a gadget called the "Alligator
" I use this all the time in my everyday kitchen work. So far my mom, sister and aunt bough this and are all extremely happy with it.
I hope that you will enjoy this tasty German Apple Strudel.
German Apple Strudel
For the strudel dough:
• 250 g flour (2 cups)
• 3 tablespoons of oil
• 125 ml water
• Pinch of salt
• Melted butter for brushing dough (almost a whole stick or 1/2 cup)
• Powdered sugar for decoration

Apple filling:
• ½ cup of raisins or chopped almonds
• 4 Tablespoons of rum or orange juice
• 6 medium size baking apples (Granny Smith or Gala)
• ¾ cup of sugar (150 g)
• 1-2 teaspoon of lemon zest (use bio lemons)
• 4 Tablespoons of lemon juice (juice from 1 lemon)
• ¼ teaspoon cinnamon

Prepare the apple filling:
• Soak the raisins in the rum or orange juice. If you don't like raisins in your cakes, then you can skip this step.
• Peel, core and chop the apples into small pieces. Add sugar, lemon juice, lemon zest, raisins or almonds, cinnamon and mix well. If you like you can use less zest. I usually add only a little.

How to make the strudel dough:
• Knead the flour with oil; add SLOWLY water and pinch of salt to smooth dough. DO NOT add all the water at once. The dough cannot be sticky. It should be elastic but not stick to your hands. If in doubt, stick your finger in the dough and if you can easily take it out more or less clean, then the dough has the correct consistency. I recommend using the hook attachment on most mixers, but you could as well use your hands. If the dough is too sticky, add flour 1 teaspoon at a time.
• Form the dough into 2 balls, smear with oil, cover with plastic foil and let it sit for 1/2 hour at room temperature.

Roll out the strudel dough:
• Roll out one of the dough balls on a floured board or parchment paper to about 7 inches by 10 inches. Use plenty of flour and make sure that the dough does not stick to the underground.
• Flour a clean towel (again use plenty of flour so that the dough does not stick), place it over the dough, grab towel and dough and parchment paper or a board and flip over.
• If needed, straighten the towel or dough.
• Gently stretch the dough thinner on all sides using your hands, similar to like you would be making a pizza. Stretch it until it starts to look transparent in spots. The trick is to not over stretch since the dough can break while flipping onto the baking paper. You will end up with thick edges, but don't worry, you'll cut them later.
• Brush the stretched dough with melted butter.
• Repeat the process for the second ball.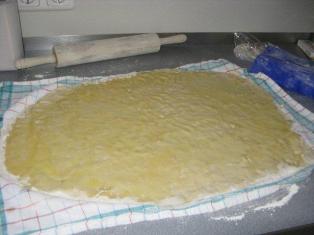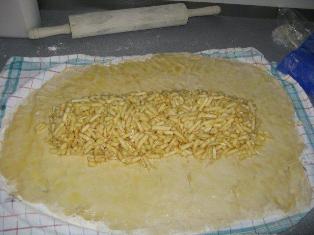 Preheat the oven to 400°F

Prepare the German apple strudel:
• Drain the apple and sugar mixture from the juice and divide into two portions.
• Spread one apple portion in the middle of the dough.
• Cut off any thick edges of dough.
• Using the towel, fold one side of the dough over the filling.
• Brush exposed dough with melted butter.
• Fold other side of dough over the filling to form a roll.
• Fold in ends of dough like an envelope.
• Brush the whole cake with melted butter.
• Line a baking sheet with parchment paper and roll the strudel onto it so that the seam-side is down.
• Brush the top of the cake with melted butter.
• Repeat the process with the second dough.

Bake at 400°F for 20 minutes and then at 350°F for 40-60 minutes longer.

If you like, after 20 minutes of baking, you can brush the strudel with sugar dissolved in milk. It will give a nice crunchy note to the cake.
Remove the German Apple Strudel from oven and immediately brush top with melted butter and sprinkle with powdered sugar. Cut into 2 inch wide slices with a bread knife and serve with whipped cream or vanilla sauce.


Click here to rate this easy cake recipe
---
Return from German Apple Strudel to Strudel Recipe
Return from German Apple Strudel to Easy Cake Recipe Homepage